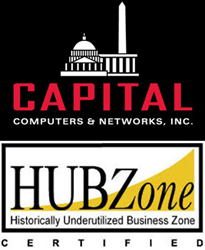 Leesburg, VA (PRWEB) April 15, 2014
The U.S. Small Business Administration has certified Capital Computers & Networks (CCNI) as a qualified HUBZone Small Business concern.
CCNI's Principal Office is located in Leesburg, VA, in Loudoun County, a suburb of Washington, DC. CCNI is a Small Business specializing in Information Technology Services and procurement of computer related hardware and software. CCNI has been in business since 2006 and has built a reputation for providing comprehensive technical solutions and services to public and private sector clients in the Washington, DC metropolitan area. CCNI provides project management, staffing, and products necessary to perform IT support services for Federal agencies.
CCNI's CEO, Marilyn Rust, "Capital Computers is thrilled to have been certified as a HUBZone business. We welcome the opportunity to be able to employ more people in our community through this program and expand the products and services we offer in the Federal space."
For information on doing business with CCNI as well as partnering and teaming opportunities, please visit our website or contact us by email or phone.
Capital Computers & Networks
703-777-3146
http://www.capcomputers.net
64B Sycolin Rd. SE
Leesburg, VA 20175