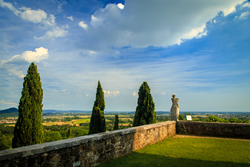 The private resort provides an immersive approach to wellness
ORLANDO, Fla. (PRWEB) December 20, 2018
Wellness has gone beyond being a trend and has become an aspirational and inspirational part of life as many people today are stressed, overworked, and seeking balance in their lives. This has contributed greatly to not only the Wellness Economy but also how widely it has reached into people's lives, from general fitness to tourism, spa, personal care, nutrition, workplace wellness, and even real estate. As this type of ecosystem grows and reaches further into people's lives, wellness services have become more sophisticated and comprehensive.
Set amidst a picturesque and old world location in the South of France, this private resort brings an inclusive, all-encompassing approach to wellness to its clientele. Immersive wellness programs, a medical/aesthetic clinic, luxury accommodations in a five-star boutique hotel, fine dining, eco villas, luxury spa, onsite vegetable garden, and sustainable construction and energy management all come together in this project to bring out the best that wellness living has to offer, with industry experts leading the charge.
The method by which this project is to be funded is the brainchild of Mr Gilles Herard. Mr Herard is a seasoned merchant banker and has been in the banking industry for over 40 years. As Managing Director of Capital Corp Merchant Banking, Mr Herard has become a leading figure in international middle-market project financing and engineers all funding structures for projects at Capital Corp. Mr Herard has received numerous awards for his work and other contributions including being appointed to the Presidential Business Commission, Honorary Co-Chairman of the Business Advisory Council, nominated as Executive of the Year by the internationally acclaimed National Register's Who's Who, and having received the Senatorial Medal of Freedom, among many others.
About Capital Corp Merchant Banking: Capital Corp Merchant Banking offers quality Merchant Banking services for a variety of projects worldwide. Capital Corp Merchant Banking is solution-oriented and known for being the most flexible Funding Source on the Market in creating handcrafted investment structures to meet the needs of the different constituent groups in each individual transaction, including general project funding, equity funding, debt restructuring, and real estate development. For further information, please visit our website.