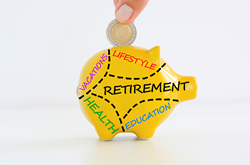 Guess how much you need to save for health care in retirement? Wrong. It's much more.
SAN DIEGO, Calif. (PRWEB) December 01, 2016
San Diego financial advisor Jeremy Keating of Capital Income Advisors( CIA) released a new blog titled, "Five Common Retirement Planning Mistakes You Don't Want to Make," focusing on common mistakes people make in their preparation for retirement, and offering common-sense tips to avoid making them.
As the largest generation of retirees in U.S. history streams into retirement, they enter their golden years with uncertainties and challenges that no previous generation of retirees have faced. Most notably, baby boomers are the first generation to self-fund their retirement, after traditional corporate pensions were phased out in the late 1970s and replaced with employer-sponsored 401(k) savings plans.
While many people nearing retirement have a sense of their accumulated asset value, a general idea of how much they will need to spend in retirement and how long their money might last, without a retirement income strategy in place that maps out specifically how their nest egg will finance retirement, they're heading into an uncertain future.
With so many variables to consider, just thinking about retirement planning can easily overwhelm. Thankfully, it's never too late to plan ahead and develop a retirement income strategy. Keating suggests that individuals begin by focusing on mistakes they can avoid making to help pave a path to a comfortable retirement.
1. Entering retirement without a recent retirement income strategy.
It's hard to reach one's destination without knowing what it is. Individuals who have never mapped out a strategy for supporting themselves financially in retirement, or who have a plan in place that was drafted years ago and sorely in need of review and revisions need to correct this mistake and set a clear course for their retirement income.
2. Not saving enough to financially support themselves in retirement.
During one's working years, those who spend each paycheck to the dime without saving anything for the future can find themselves in a precarious situation once their paychecks stop coming in. Establishing a budget that includes an allotment to be set aside for retirement savings—and then sticking to it—is the best way to avoid mistake number 2.
3. Overlooking the impact inflation and taxes can have on one's finances in retirement
No one can predict how the inflation rate or taxes may change, but that doesn't relieve people from the need to prepare for one sure thing: there will be changes. Developing a retirement income plan based not only on what will be needed for today, but also what will be needed the future.
4. Ignoring the cost of healthcare:
According to an article by The Washington Post health and medicine blogger Lenny Bernstein titled, "Guess how much you need to save for health care in retirement? Wrong. It's much more," a 65-year-old married couple that retired in 2014 will need about $220,000 for health care costs in retirement. Underestimating Health Care Costs is a common mistake among people who enter retirement unprepared.  Even with Medicare, health care costs can wear away at one's spending power and economic security in retirement. Out-of-pocket expenses for retirees increase routinely, the possibility of needing long-term care in retirement looms as today's retirees are living 30 years or more longer than their parents. Health care costs pose one of the most serious risks to retirement security, which makes planning ahead to cover these costs so important.
5. Not planning for the potential need for long-term care:
According to the U.S. Department of Health and Human Services, an estimated 70 percent of people over 65 will require long-term care at some point in their lives, and the average cost of a private nursing home room is more than $77,000 per year. Failing to take these factors into consideration can lead to an unwelcome impact on one's retirement income.
To learn more, visit the Capital Income Advisors website, email jkeating(at)capitalincomeadvisors(dot)com, or call 800) 875-1986.
About Capital Income Advisors:
The primary focus at Capital Income Advisors is retirement planning. Jeremy Keating and the CIA team of advisors treat their clients as they would treat members of their own family. CIA strives to help create sound retirement income strategies for men and women in or nearing retirement, thereby instilling confidence that their retirement income will last as long as they do.
Capital Income Advisors serve all of Northern and Southern California, all across Texas including, Houston, Dallas, Austin, San Antonio, Midland, and the New York Tri State area. CIA offers retirement income strategies, wealth accumulation, asset protection, annuities, life insurance, tax minimization strategies, long-term care, IRA and 401(k) rollovers.
Securities offered through Securities America, Inc., Member FINRA/SIPC. Advisory services offered through Securities America Advisors, Inc. and Arbor Point Advisors LLC. Capital Income Advisors, Securities America, Inc., and Arbor Point Advisors LLC are separate entities. Securities America and its representatives do not provide tax or legal advice; therefore it is important to coordinate with your tax or legal advisor regarding your specific situation.
###