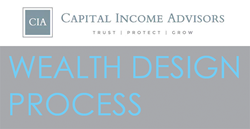 CIA designed and trademarked the Wealth Design Process to be an educational and enjoyable experience for clients.
SAN DIEGO, Calif. (PRWEB) January 19, 2016
Jeremy Keating of Capital Income Advisors (CIA) has announced the firm's Wealth Design Process™, a three-step system customized to each individual client that helps them simplify their financial lives, save time, secure their future and reduce risk. The goal of the process is to achieve a unique wealth solution that provides the comfort to focus on enjoying life, and achieving one's goals and retirement dreams.
CIA designed and trademarked the Wealth Design Process to be an educational and enjoyable experience for clients, one in which the CIA advisor helps clients define their financial needs and goals through a series of meetings and in-depth discussions held on the clients' terms and within their time frame. The Wealth Design Process is an ongoing method established on a relationship-based trust.
While the three-step proprietary Wealth Design Process appears at first to be very simple, it actually involves a complex system that, over time, deepens and refines the client's financial design to ensure that their wealth is consistently working to help provide a great quality of life, and the satisfaction of mind that goes with it. The Wealth Design Process is not just about offering financial advice, a service or a product, but it encompasses an entire, integrated wealth solution structure that is unique to each individual client.
Step one: Discovery, is building a financial foundation, which begins with the CIA financial advisor gathering all pertinent information—accumulation of different
investments, insurance, debt, cash flow, tax and estate plans, etc. to get a thorough analysis of the client's wealth, and to measure how it aligns with their goals. By gathering and performing a comprehensive analysis of the client's wealth to obtain a clear and accurate financial picture and to assess potential risks, the CIA advisor is able to draft a prioritized action plan that addresses the client's most pressing issues and needs to get their financial house in order.
This prioritized action plan lays the groundwork for the advisor and the client's future work together, and provides the client with added confidence and control over their finances.
Step two: Assessment and planning, involves the analysis and development or refinement of the client's entire financial design, including all wealth management disciplines— asset management, asset protection, cash flow, debt and tax management, and wealth transfer planning.
Step three: Implementation, is the execution of the client's customized personal financial plan for designing a great life.
"When it comes to goal setting, we find that most people struggle to get past their most obvious financial needs as they are unclear about what they really want out of life," Keating says. "But helping our clients pin down the way they envision living their lives, and then designing a plan to achieve their goals is at the core of what we do.
"Our goal is to ensure that our clients' wealth works to help them live a full and purposeful life."
The Wealth Design Process is all about clients gaining clarity about what is important to them, where they are going, and what they want to accomplish.
"Basically, we want our clients to be able to answer the question, "What does a 'great life' mean to you?" Keating says. "Throughout our relationship with each client, the CIA advisor works to help them articulate their values and translate those values into a vision and meaningful goals, and develop tasks and strategies that will enhance their lives and act as the benchmark for their personal financial design for life."
The CIA advisor does most of the work for clients who take advantage of the Wealth Design Process, and they take that responsibility seriously. As the client-advisor relationship grows over time, the process continues to evolve; the advisor continues to refine the client's personal financial design to ensure that their wealth keeps working to give them the great life they have worked a lifetime to earn.
For more information on the Wealth Design Process, visit the Capital Income Advisors website, email jkeating@capitalincomeadvisors.com, or call (800) 875-1986.
About Capital Income Advisors:
The primary focus of Jeremy Keating, Richard Gigliotti and Martin Shapiro, principals at Capital Income Advisors, is retirement planning. Jeremy Keating and the CIA team of advisors treat their clients as they would treat members of their own family. CIA strives to help create sound retirement income strategies for men and women in or nearing retirement, thereby instilling confidence that their retirement income will last as long as they do.
Capital Income Advisors serve all of Northern and Southern California, all across Texas including, Houston, Dallas, Austin, San Antonio, Midland, and the New York Tri State area. CIA offers retirement income strategies, wealth accumulation, asset protection, annuities, life insurance, tax minimization strategies, long-term care, IRA and 401(k) rollovers.
Securities offered through Securities America, Inc., Member FINRA/SIPC. Advisory services offered through Securities America Advisors, Inc. and Arbor Point Advisors LLC. Capital Income Advisors, Securities America, Inc., and Arbor Point Advisors LLC are separate entities. Securities America and its representatives do not provide tax or legal advice; therefore it is important to coordinate with your tax or legal advisor regarding your specific situation.
###