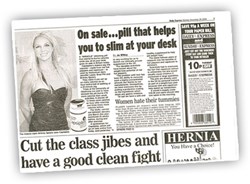 Glasgow, UK (PRWEB UK) 3 January 2014
Women are trying to find a new diet solution to help combat their dreaded PMT mood swings.
The wonder natural pill energizes and enhances the body's natural chemical weaponry to fight appetite surges and their monthly cycle of mood changes. The supplement is the first of its kind to include the natural ingredient 5-HTP.
The pill – Capsiplex Plus – is a unique formula of 5-HTP, which is converted into serotonin by the body when taken as a supplement which helps with mood, appetite control, sleep and even anxiety. One of the causes of PMT is when the signals get disrupted by hormonal changes in the body. It's been suggested that approximately a third of women suffer from some level of PMT which affects their life in some way. In general, most women gain between 3 and 5 pounds during their PMT, this weight gain usually begins at the same time as their menstrual period, but it may start slightly sooner.
A Capsiplex Plus Spokesperson quotes "The advanced formula has been five years in the making and we are delighted to now offer women a pioneering formula with dual benefits." Capsiplex Plus seems to have caused a trend with women who suffer from weight gain during their monthly cycle. It is a fantastic and natural way of combating something that affects so many women and causes so much heartache." "It causes a natural release of serotonin which balances mood and reduces the crazy appetites that can come with PMT."
A Capsiplex Plus Spokesperson comments on the weight loss part of the program "It is developed from red hot chilli peppers and using it with a healthy balanced diet can help you drop two dress sizes in just a month," "Medical studies have shown that hot foods can support body fat loss because they speed up the digestive system and make the body burn off calories." One of the many studies on this can be found here. This study was conducted by Kiran DK Ahuja, Iain K Robertson, Dominic P Geraghty, and Madeleine J Ball from the School of Human Life Sciences, University of Tasmania, Launceston, Australia in July 2006.
"It means you can get the positive benefit without having to eat handfuls of chilli peppers and the impact on the body is a real boost to women who want to lose weight but also control their PMT."
"Mood swings can be uncomfortable and upsetting so anything that reduces their severity is welcomed by women. Getting a weight loss result as well makes Capsiplex a double-wham-my."
Celebrity personal trainer Glen Malton, who has worked with James Bond star Daniel Craig, says: 'This is a fantastic way for my clients to take their work out to the next level and achieve their goals quicker. The natural formula ensures no side effects'
Nicole Weaver, a 33 year old sales executive, tried Capsiplex Plus to regulate her monthly mood swings and also control her appetite. She has lost an incredible 3 stone and credits Capsiplex Plus for managing her mood swings which she quotes 'I have always struggled with PMT and it really began to affect my relationship with my fiancée. I would become so hot headed and depressed, that combined with a larger appetite meant I dreaded 'that time of the month'. Capsiplex Plus has not only helped me 'perk up' but has let me achieve my ideal weight. I was putting on an average of 5 lbs per month and although most of the weight did come off I founds that there was always a few lbs. at the end of the month that didn't shift.