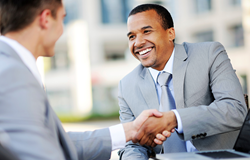 I wanted a strong brand image and found a great partner with Idea Marketing.
San Mateo, CA (PRWEB) April 06, 2015
Capstone Resume Services worked with Idea Marketing Group to redesign and develop a new web presence for them. With many successes as Gies Career Services, the rebranding as Capstone Resume Services clearly identifies the company and positions it for continued growth.
"I wanted a strong brand image and found a great partner with Idea Marketing," said Amy Gies, founder of Gies Resume Services, now rebranded as Capstone Career Services. A company rebranding is no small feat, but they made it feel seamless. They understood immediately where I wanted to go with the company brand and really did well creating messaging and plans across social media and online platforms. I'm proud of our collaborative efforts and feel it shows in all of our marketing efforts."
Capstone Resume Services is a full-service resume writing company, specializing in resumes for individuals in the technology, federal, academic or professional field, as well as for corporate outplacement services. Capstone starts the process with a personal consultation. Then, the Certified resume writer creates a resume that represents the job seeker's intended career goals with focus to help stand out from the other candidates. Based on information from the consultation, Capstone's professional resume writers define measurable successes and achievements and present a job candidate in a manner that will make it appealing to both electronic screening and human eyes.
Similar to Capstone's approach to individual branding, Idea tackled Capstone's branding and online presence with creative content that expressed the services in a manner that would attract new leads through search and via website visits. The site itself was custom built on Wordpress platform with strong SEO, paying particular attention to the user's flow through the site. The website is an eCommerce platform built to offer potential clients an opportunity to buy directly on the website, complete with add-on opportunities.
Check out the new Capstone Resume Services, a professional resume services website.
Idea Marketing Group, located just west of Chicago, offers web design, web development, and marketing services to clients nationwide. With additional specialties in branding, graphic design and marketing services. Idea draws from experienced, in-house talent paired with unmatched customer service at award-winning levels.