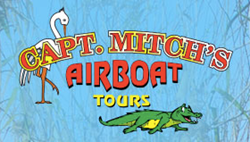 The timing for the new Everglades airboat rides could not be any more perfect; summer is just around the corner, and people around the country are busy planning their family vacations
Naples, Florida (PRWEB) May 11, 2015
Captain Mitch's Airboat Tours, a top-notch airboat tour company, has just announced some fun and exciting new Everglades airboat tours. As a company spokesperson for CaptainMitchs.com noted, the new Everglades airboat rides go through some different routes, which allow riders to see even more of the interesting flora and fauna the area is known for.
The timing for the new Everglades airboat rides could not be any more perfect; summer is just around the corner, and people around the country are busy planning their family vacations. For those who have always dreamed about taking exhilarating and memorable airboat tours Everglades area Captain Mitch's is ready and able to help.
Captain Mitch House has been part of the Everglades tour industry since he was a young lad. He followed in the footsteps of his great grandfather Barrel Head House, who built one of the area's first ever commercial airboats in 1945. While his great grandpa's boat served him and his customers quite well for years, Captain Mitch uses more modern airboats for his tours of the beautiful Florida Everglades.
As the company spokesperson noted, Captain Mitch's Airboat Tours are a terrific way to experience the thrill of flying like a true Florida Everglades local. Unlike his competitor's less-than-interesting airboat rides Everglades area Captain Mitch and his crew strive to teach their riders about the local ecosystem and the many things that live there.
During the private Everglades airboat ride people will typically get to see alligators, birds, fish and snakes, as well as possibly deer, bears and hogs. Thanks to the natural flow of nutrients and minerals into the area, the Everglades are an ideal breeding ground for not only these amazing animals but also some great trees and plants like cattails and more. Some of the folks who have taken a tour with Captain Mitch have even experienced the thrill of watching a bald eagle soar overhead.
Anybody who would like more info about Captain Mitch's Airboat Tours is welcome to visit his user-friendly website; there, they can read more about the colorful history of the oldest family-owned airboat ride company in south Florida and make online reservations for an unforgettable tour.
About Captain Mitch's Airboat Tours:
Captain Mitch's Airboat Tours is the premier airboat tour company in the Florida Everglades. People who are looking for a fun and exciting way to see the grasslands of the Florida Everglades should visit http://www.captainmitchs.com.