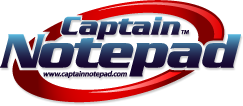 This new coloring notepad is something new that your clients haven't seen before
Englewood, CO (PRWEB) October 27, 2016
Captain Notepad (http://www.captainnotepad.com), a producer of image personalized calendars, custom notepads, magnetic notepads, and other promotional items, today announced the release of its new product, custom printed coloring notepads.
The Coloring Notepad is part of the latest trend of coloring for adults. Your clients will love doodling and coloring on these fun and customized notepads. "You get the same great logo placement and contact information that you would normally get on your custom notepad printing," notes Jace Rogat, President at Captain Notepad. He continues, "But this new notepad is something new that your clients haven't seen before. It will sure to be a notepad staple in any household."
The Coloring Notepad comes in several sizes and themes, including Holiday themed notepads. All notepads can be fully customized.
Captain Notepad has also released the 2017 custom printed calendars that are available to order. New to the lineup includes customized calendar designs in the popular 15 mil calendars. The customized calendars include new cover options for their magnetic business card calendars. "Your clients will love receiving one of our calendars to hang on their fridge all year round," says Jace Rogat, President at Captain Notepad. "We offer great cover options all at an affordable price." Captain Notepad's new 15 mil calendars are ultra slim and can be mailed using a first class stamp. Customers can also order value calendars that are completely personalized. Click here to see a full list of customized calendars.
About Captain Notepad (https://www.captainnotepad.com)
Captain Notepad is the leading manufacturer of customized notepads and promotional items specializing in creative solutions to help brand a company's product and grow their business. Through competitive prices and great customer service, Captain Notepad has become the best source for custom notepads. What sets Captain Notepad apart is the short production time including rush production on most of the custom printed notepads.