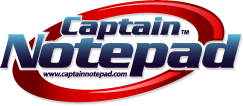 Differentiate yourself from the competition by affiliating yourself with high quality, functional, eco-friendly products that keep on giving
Englewood, CO (PRWEB) March 31, 2015
Captain Notepad, a producer of image personalized calendars, custom notepads, magnetic notepads, and other promotional items, today announced that it's over 30 Earth Day products are now 15% off in honor of Earth Day.
"In true Earth Day spirit, we wanted to give our customers the opportunity to purchase eco friendly products that can be used year round for our client's customers," notes Jace Rogat, President at Captain Notepad. He continues, "Earth Day is a reminder that we should be helping our environment by buying eco friendly notepads and products, such as our full color recycled paper notepad. We don't have to buy these products just once a year during Earth Day, but all year long so we can give our clients environmentally friendly products and show that we care about the environment."
The Earth Day promotion runs today through April 22nd, enter the code EARTH at checkout to receive 15% off Earth Day products. Visit http://www.captainnotepad.com/promotional/earth-day-promotions.html for a full list of products including:
Full Color Recycled Paper Notepad
Eco Friendly 4" x 4" Die Cut House Notepad
Custom Magnetic Notepad | Green Cleaning Solutions
"Differentiate yourself from the competition by affiliating yourself with high quality, functional, eco-friendly products that keep on giving. The Earth Day products offer our clients unique ways to brand their business and leave lasting impressions in an Eco Friendly way," says Jace Rogat, President at Captain Notepad. Each product can be customized with a logo, contact information, and color scheme and uses recycled or Earth friendly paper.
About Captain Notepad (https://www.captainnotepad.com)
Captain Notepad is the leading manufacturer of customized notepads and promotional items specializing in creative solutions to help brand a company's product and grow their business. Through competitive prices and great customer service, Captain Notepad has become the best source for custom notepads. What sets Captain Notepad apart is the short production time including rush production on most of the custom printed notepads.