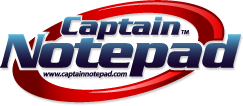 Steve brings a great deal of experience to the Captain Notepad team, ensuring that our custom-printed notepads look great
Englewood, CO (PRWEB) October 30, 2014
Captain Notepad (http://www.captainnotepad.com), a producer of image personalized calendars, custom notepads, magnetic notepads, and other promotional items, announced today that Steve Braigiel will be the new lead pressman at Captain Notepad. Steve comes with a wealth of experience within the Industry, having spent 33 years working for various companies such as IKON, Paragon Printing, and Greenwood Enterprises. Steve will be an integral part on making Captain Notepad a success.
As Captain Notepad's Lead Pressman, Steve will continue Captain Notepad's success in providing customers the best notepads and products possible. Steve comments "I am excited to start a new challenge within Captain Notepad and look forward to working with the team to further enhance their already extensive products. I am fortunate to be joining such a respected company that prides itself on top quality service."
"Steve brings a great deal of experience to the Captain Notepad team, ensuring that our custom-printed notepads look great, notes Jace Rogat, President at Captain Notepad. He adds, "Steve's wealth of experience and industry knowledge has already made him a key addition to the Captain Notepad family. Our growing demand for high quality customized notepads led us to look for an addition to our team who will fit in with our ethos of innovation and exceptional service, and it is very fortunate that we were able to find someone of Steve's caliber to fulfill this role. I'm confident that Steve will play a key role in providing and implementing high quality products for our clients."
For additional information and to view the entire list of promotional products sold at Captain Notepad, please visit our website.
About Captain Notepad
Captain Notepad is the leading manufacturer of customized notepads and promotional items specializing in creative solutions to help brand a company's product and grow their business. Through competitive prices and great customer service, Captain Notepad has become the best source for custom notepads. What sets Captain Notepad apart is the short production time including rush production on most of the custom printed notepads.