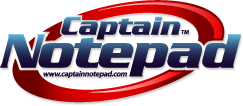 The new products offer our clients unique ways to brand their business and leave lasting impressions for their future customer
Englewood, CO (PRWEB) January 29, 2015
Captain Notepad (http://www.captainnotepad.com), a producer of image personalized calendars, custom notepads, magnetic notepads, and other promotional items, today announced the three new products to its customized notepads product line. In addition, January marks Captain Notepad's 15th year of selling custom notepads.
"We are thrilled to be offering new promotional notepads and products to our clients," notes Jace Rogat, President at Captain Notepad. He continues, "We've been in business for 15 years and have seen the custom notepad business continue to grow."
The promotional notepad products included in the new product line include:
Paper Padfolio: Perfect for conventions, seminars and jobs that require standing while writing notes.
Paperless Note Pad: Note pad is coated with write on/wipe off material
3M™ Custom Printed Planner with Post-it® Full Adhesive Notes: Custom print weekly planner
"The new products offer our clients unique ways to brand their business and leave lasting impressions for their future customers," says Jace Rogat, President at Captain Notepad. For a limited time, Captain Notepad is offering 15% off all new products. "The special offer is our way of saying thank you for 15 years of providing great products and being able to showcase our new products that we think our clients are going to love."
About Captain Notepad (https://www.captainnotepad.com)
Captain Notepad is the leading manufacturer of customized notepads and promotional items specializing in creative solutions to help brand a company's product and grow their business. Through competitive prices and great customer service, Captain Notepad has become the best source for custom notepads. What sets Captain Notepad apart is the short production time including rush production on most of the custom printed notepads.