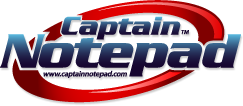 By adding high gloss or foil to a business card, clients will remember your brand
Englewood, CO (PRWEB) April 30, 2015
Captain Notepad, a producer of image personalized calendars, custom notepads, magnetic notepads, and other promotional items, today announced that it's adding a new line of unique business cards, Luster cards, Painted Edge Cards, Foil Cards, Extra Thick 32 & 48 Point cards and other custom shaped business cards to its product list.
"It's a cool business card that portrays class, style, and sophistication," notes Jace Rogat, President at Captain Notepad. He continues, "We wanted to offer unique business cards to professionals looking to stand out from the crowd. You only have one chance for a first impression, so why not add something special to the first branded tangible piece a potential client will hold onto. By adding high gloss or foil to a business card, clients will remember your brand."
Captain Notepad offers an array of creative business cards to choose from. Each unique business card can be customized with your colors, brand name and logo, and contact information. "If clients are looking to go beyond the rectangle, we also offer customized die cut business cards to match the industry you're in," says Jace Rogat, President at Captain Notepad. Examples of the new unique business cards include:
Painted Edge Business Card
Die Cut Business Card
Extra Heavy Luster card
About Captain Notepad (https://www.captainnotepad.com)
Captain Notepad is the leading manufacturer of customized notepads and promotional items specializing in creative solutions to help brand a company's product and grow their business. Through competitive prices and great customer service, Captain Notepad has become the best source for custom notepads. What sets Captain Notepad apart is the short production time including rush production on most of the custom printed notepads.