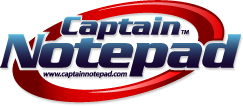 Your clients will love the magnetic notepad that they use on a daily bases, and business will love the lasting impression their magnet leaves long after the notepad ends
Englewood, Colorado (PRWEB) September 25, 2014
Captain Notepad (http://www.captainnotepad.com), a producer of image personalized calendars, custom notepads, magnetic notepads, and other promotional items, releases the Mag-Pad, the only magnetic notepad that will leave an image of a company's logo long after the paper is gone.
Magnetic notepads just got a whole new look with the Ultimate Mag-Pad. Businesses can take advantage of the normally blank backing on magnetic notepads and include their logo, business name, and useful information like a calendar or sports schedule. "A notepad and promotional magnet all in one," notes Jace Rogat, President at Captain Notepad. He adds, "The Mag-Pad makes for the ultimate marketing tool for any business. Your clients will love the magnetic notepad that they use on a daily bases, and businesses will love the lasting impression their magnet leaves long after the notepad ends."
The company replaced the chipboard backing from a standard notepad with a full-color, personalized magnet. The magnetic notepad can be personalized with a company's logo, name, and contact information. Companies will select from a full-color calendar, sports schedule, important phone numbers, or useful tools like the kitchen equivalency chart to be included on magnet. Businesses also have the option of customizing their own magnet to meet the needs of their clients.
For additional information and to view the entire list of promotional products sold at Captain Notepad, please visit: http://www.captainnotepad.com.
About Captain Notepad
Captain Notepad is the leading manufacturer of customized notepads and promotional items specializing in creative solutions to help brand a company's product and grow their business. Through competitive prices and great customer service, Captain Notepad has become the best source for custom notepads. What sets Captain Notepad apart is the short production time including rush production on most of the custom printed notepads. Learn more at http://www.captainnotepad.com.