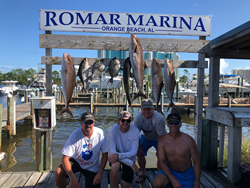 "Options for chartering boats vary, but the most opted customer favorites include deep sea fishing, nearshore fishing, back bay trips, and dolphin watching." - Captain Michael Thomas
ORANGE BEACH, Ala. (PRWEB) August 10, 2018
Tourists and locals alike enjoy the experience of spending a day onboard a fishing charter, but often do not consider some critical details before handing over that hard earned money. "Options for chartering boats vary, but the most opted customer favorites include deep sea fishing, nearshore fishing, back bay trips and dolphin watching," said fishing guide, Captain Michael Thomas, owner of Hooked Up Charters.
Thomas, who has been working the Orange Beach and surrounding areas for over 30 years, lists the following six tips to help people make the best decision when hiring a fishing guide and chartering a boat:
No. 1: Clear your schedule for the day. Many people don't realize how extensive some of these fishing adventures can be. Some trips can go as long as 12-14 hours and there's often one guest who wasn't prepared for the long journey. "Be ready to properly pack the right materials to endure and enjoy a wonderful day on the water," stressed Captain Michael Thomas.
No. 2: Be prepared. With the weather being a huge factor, always be aware of weather conditions for the day of. "While the chartering company keeps tracks of these factors as well, it's good to be prepared as they obviously won't pack your basics like a jacket, rain gear, hats, sunscreen, cameras, glasses, and lunch or dinner if not provided," added Captain Thomas. "Be considerate when packing alcohol (if allowed), as beer cans are preferred and hard alcohol and glass bottles are usually discouraged, for obvious reasons."
No. 3: Be flexible. With so many factors affecting a boat trip, it's best to be flexible with expectations. "While you may have a destination and/or order of activities in mind, the captain may advise against these things for the best interest of captain and crew," noted Captain Thomas. "Unexpected forces such as weather, sea conditions or locations of targeted fish can change your plans, but it doesn't have to ruin your day. Be assured that rolling with the punches will allow you to fully enjoy your at sea journey."
No. 4: Be cautious of seasickness. Somewhere at any given moment, someone is likely nauseous at sea and not in tune with their seasickness. Be sure to know 100% for sure if someone deals with motion sickness, and that purchasing over the counter medication like Dramamine may be a great solution. This will help guests and crew fully enjoy the fishing experience for the entire duration of the trip.
No. 5: Choose the captain, not the boat. Although the boat may look shiny and new if the captain isn't a rockstar at his/her job it can ruin the overall experience. "Be mindful that an enthusiastic, passionate captain will help carry the positive energy throughout your fishing or tourist trip for the day," stated Captain Thomas.
No. 6: Show the captain and crew love. "We all know chartering a boat can be expensive, but many don't realize that select crew members depend on tips as a primary source of income," concluded Captain Thomas. "Research the company you are chartering a boat from to see if tips are suggested. Also, it is even customary to treat your captain and often accompanying crew to a dinner if the trip goes over one day."
About Hooked Up Charters
Hooked Up Charters specializes in family-fun fishing offshore, near shore and in the back bay. Offerings include ecotours, sightseeing, and dolphin watching cruises in the evening. Its guests bring in red snapper, amberjack, triggerfish, redfish, cobia and king mackerel, with shark fishing available by request. Captain Michael Thomas has more than 30 years of experience and provides an unforgettable experience on the water. For more information, please call (251) 223-7558, or visit http://www.hookeduporangebeach.com. Hooked Up Charters is located at 26350 Cotton Bayou Drive, Orange Beach, AL.
About the NALA™
The NALA offers small and medium-sized businesses effective ways to reach customers through new media. As a single-agency source, the NALA helps businesses flourish in their local community. The NALA's mission is to promote a business' relevant and newsworthy events and achievements, both online and through traditional media. The information and content in this article are not in conjunction with the views of the NALA. For media inquiries, please call 805.650.6121, ext. 361.