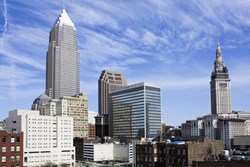 Cleveland, OH (PRWEB) September 30, 2013
The Onder Law Firm, personal injury lawyers that handle severe injury and death cases and complex products liability litigation nationwide, have created a website devoted to Cleveland auto accident claims, especially for those who sustained an injury as a result of the car accident. The firm's Cleveland car accident lawyers accidents involving commercial trucks. The website, http://cleveland.lawyerforcaraccident.com/, not only details the services offered by the firm's Cleveland car accident lawyers, but also explains the type of car accident claims that may be made for different injuries as well as information that anyone involved in an auto accident needs to know before settling with an insurance company.
There are dozens of car accidents every day throughout the metropolitan Cleveland area, the majority of which thankfully do not result in a serious injury or fatality. However, even relatively minor injuries can result in major expenses due to medical bills and lost wages. In an accident with more serious consequences, a fraction of a second can change a family's future for years to come, sometimes forever. Visitors to The Onder Law Firm's Cleveland car accident claims website can read about the results they have achieved for other families, what sets them apart from other Cleveland auto accident attorneys and the dedication with which they handle each and every auto accident injury case.
The Cleveland car accident lawyers at The Onder Law Firm welcome inquiries from other law firms in regards to handling or working as co-counsel on auto accident lawsuits throughout Ohio.
About The Onder Law Firm
Onder, Shelton, O'Leary & Peterson, LLC is a St. Louis based personal injury law firm handling serious injury and death claims across the country. Its mission is the pursuit of justice, no matter how complex the case or strenuous the effort. Onder, Shelton, O'Leary & Peterson have represented clients throughout the United States, and other firms throughout the nation often seek its experience and expertise on complex litigation. It is a recognized leader in products liability cases such as window blind cord strangulation and pharmaceutical litigation. The Onder Law Firm offers information pertaining to Cleveland auto accident injury claims and a free attorney case review at http://cleveland.lawyerforcaraccident.com.