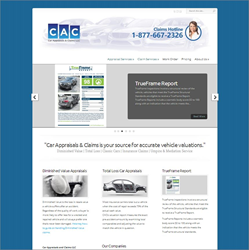 Atlanta, GA (PRWEB) May 31, 2014
Car Appraisals and Claims LLC has launched stage 1 of the redesign of their website, http://carappraisalclaims.com Along with a more contemporary design, changes have been made to the site-wide navigation to help customers find the information they need faster. In addition, the new sites will enable users to lookup their reports in real time.
Car Appraisals and Claims LLC (CAC) is a leader in vehicle valuations and insurance claim services. CAC's licensed appraisers are experienced in handling complex property damage claims as well as various umpire/mediation claims and expert witness testimony.
CAC's business clients include:

Personal Injury Law Firms
Insurance Companies
Dealer Groups
Leasing Companies
Government Agencies
Independent Claims Adjusters
Fleet and Rental Companies
Municipalities / Public Transportation Authority
CAC also serves the general public through their subsidiaries:
Diminished Value of Georgia Diminished Value of Atlanta
Diminished Value Carolina
Diminished Value Bureau
Totaled.US
Atlanta Auto Appraiser LLC
Charity Car Appraiser LLC
The cost of the valuation reports offered by CAC is:
Field Appraisals $275 (includes physical inspection)
Desk Appraisal $150 (sight unseen)
Umpire Service $250
Expert Testimony $300/Hour
"Within the next few months we will be consolidating all of our appraisal brands under the Car Appraisals and Claims corporate entity," says Tony Rached, owner and car appraiser. "Our plan for 2014 is to double our 2013 claims volume to 7,500 reports per year."
For more information about the appraisal services offered by CAC and its affiliates, please call Tony Rached directly at 678-805-4066