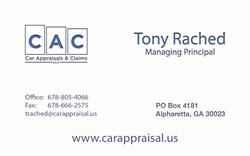 CAC is an independent company specializing in propert damage claims.
Atlanta, GA (PRWEB) August 31, 2015
Car Appraisals & Claims is a professional car appraisal company specializing in property valuations that include:
1) Diminished Value Appraisals
2) Actual Cash Value Reports
3) Classic Cars & Specialty Vehicle Appraisals
4) Motorcycles and Recreational Vehicles
5) Bankruptcy and Estate Appraisals
6) Charity and IRS Appraisals
In addition, as licensed independent adjusters CAC can process and settle insurance claims on behalf of carriers.
"We are 100% independent, as a company we're on track to execute 6,000 assignments this year" says Tony Rached, owner of CAC, "As a property damage and car value expert, I've testified at trial about two dozen times; equally divided between plaintiff and defense" he adds.
Starting September 1st, CAC will be offering additional services to its clients, which include:

Typically ordered by PI Attorneys, this report quantifies the difference between the daily rental rate of the vehicle provided to client and the vehicle being repaired.
This is a one page reports that quantify the claim's value without the expense of a full appraisal. Useful when a quick answer is needed or when a second opinion is requested.

Typically ordered by defense attorneys and insurance carriers, this is a comprehensive analysis of an adverse appraiser's report, outlining the weaknesses in the opponent's appraisal method and valuation. Useful if the other side is requesting an unreasonable amount or to settle a claim out of court.
In addition to the new products, CAC is rolling out updated dynamic pricing for law firms signed up for monthly billing:

Desk Appraisals: $100 for the first 10 then $75 each
Field Appraisals: $225 for the first 5 then $175 each
Expert Testimony, mediation or Umpire Service $250/hour (unchanged)
Claim or Appraisal Review: $25
Loss of Use Report: $25
For more information about the products and services offered by Car Appraisals & Claims please visit their website or call 678-805-4066 (Local) or 1-877-667-2326 (Toll Free).