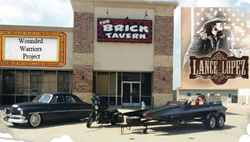 Sachse, TX (PRWEB) July 16, 2014
Over 47,000 servicemen and women have been injured in the recent military conflicts. In addition to the physical wounds, it is estimated as many as 400,000 service members live with the invisible wounds of war-including combat-related stress, major depression, and post-traumatic stress disorder. Another 320,000 are believed to have experienced a traumatic brain injury while on deployment.
The Bikes, Cars, Boats, and Blues event at the Brick Tavern in Sachse, TX will be held on July 19th, 2014 to benefit Wounded Warriors. Pre-registration is $15 and registration on the day of the event is $20. There will be a show with awards for Bikes, Boats, Cars, and Trucks. A bike and car wash will start at 2pm and last until 4pm.
Delicious Dolls Magazine will be on site doing a live paid photo shoot with pin up girls in military style outfits to help promote the event. A videographer will also be doing a paid video shoot for those wanting a live performance to remember.
A silent auction will be held for many items donated from businesses and individuals in the local community. Raffle tickets may be sold and there are live bands as well. To keep up with all the activities for this event as they are included, please visit the website at http://www.bikescarsboatsandblues.com.
Traci Sconyers quoted, "It is very exciting for local businesses coming together with the community to raise funds to benefit Wounded Warriors."
For more information, visit http://www.bikescarsboatsandblues.com.