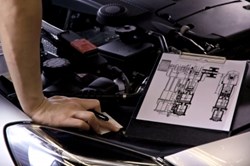 Used cars can be among the most expensive to repair due to the deterioration of parts and components that degrade over time.
Chicago, IL (PRWEB) October 18, 2013
Prices for automobile repairs can vary between mechanics, cities and types of automobiles used in North America. The Auto Pros USA company is now introducing its car collision repair warranty quote system for consumer use online to help locate warranty plans at http://www.autoprosusa.com/auto-warranty.
Consumers who are searching for a trusted way to lower or eliminate the cost of repairs can utilize the warranty database entirely online. All of the providers currently offering quotations for warranty repair policy plans inside the database update the price information to provide an accurate way to research.
"Used cars can be among the most expensive to repair due to the deterioration of parts and components that degrade over time," a source from the Auto Pros company said.
The warranty quotations that are now generated online can help any vehicle owner to plan ahead for repair costs. Drivers who can determine the actual cost of repairing a vehicle during its ownership period can be prepared if a problem happens to OEM parts. The declarations that are provided by each company during the sign-up process for warranty programs can help a driver plan for the worst case scenarios.
"The providers that are quoting rates online do not currently limit coverage based on the year of a vehicle or other factors commonly enforced in agreements by some companies," the source added.
The Auto Pros company has updated its tools online to provide additional services apart from warranty quotations. The database for locating insurance rates that is in use at http://www.autoprosusa.com/insurance is one way that a driver can review multiple policy prices at the same time online.
About AutoProsUSA.com
The AutoProsUSA.com company provides tools and additional services that car owners can use online to locate a range of different services from providers. This company constructed a resourceful junk yard search tool in 2013 and the system currently distributes pricing and other information to thousands of consumers daily. The AutoProsUSA.com company staff provide updates to the system as well as instant customer service using a national telephone number or tools consisting online. Partners currently offering distribution or fulfillment through the company network are added or decreased based on demand.