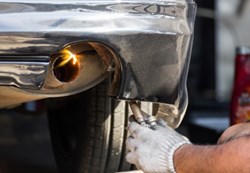 The extended policies that are now available for research online include policies from companies providing multi-year coverage
Jackson, Mississippi (PRWEB) August 30, 2013
The warranty provided with a new car purchase is one example of incentives provided by automotive dealerships when buyers choose to purchase vehicles. The Auto Pros USA company deals daily with thousands of automotive buyers and is now helping these buyers to find car extended warranty programs online. This company has launched its finder tool at http://autoprosusa.com/auto-warranty.
Most used car dealerships provide a standard level of coverage for a warranty when a used vehicle is purchased. An average warranty can be in effect for a period of six months or less, according to recent data compiled by the Auto Pros USA company online.
"The extended policies that are now available for research online include policies from companies providing multi-year coverage," a specialist from the AutoProsUSA.com company said.
Many third party servicers of automotive warranties take multiple factors into consideration when preparing a policy document for vehicle protection. The driving record of a motor vehicle owner, age of a vehicle and mileage are some of the considerations that are made when warranties are prepared.
"The search finder online requires only basic information from car owners when requesting a policy quote in real time," the specialist confirmed.
This method of finding a new policy is in comparison with telephone calls direct to companies that typically require input of sensitive information to obtain an accurate quotation for coverage. Drivers concerned with security issues can make use of the secure finder tool now provided by the Auto Pros company.
In addition to auto warranty coverage policies, this company has created a separate database that helps drivers to find affordable car insurance rates. The system requires only the input of a car owner zip code. This similar method of policy generation offers data in real time that can be viewed entirely on the company website.
About AutoProsUSA.com
The AutoProsUSA.com company has grown into one of the largest resources to find warranty information for used cars for American and foreign types. This company helps drivers in all 50 USA states to find better insurance rates as well as improved policy declarations. The AutoProsUSA.com website features multiple tools and research options that consumers use when researching insurance, warranty coverage and auto parts for sale. This company frequently connects website visitors with related products and services useful in the auto industry that are sold online.