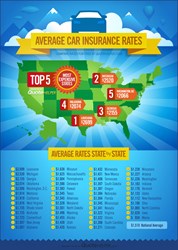 San Francisco, CA (PRWEB) September 13, 2013
Following a popular article released this week covering the average insurance rates in America, QuoteHelper.com has released an infographic to help consumers understand the average rates across each state for better comparison shopping online.
To see the full infographic, click here.
The infographic reveals the top 5 states for car insurance. Comparing quotes online has become an essential part of getting the best rate for insurance today with many consumers paying well above the state average not realizing they could be saving hundreds.
Get car insurance quotes online today, it takes two minutes. Click here.
It's important to re-evaluate one's insurance plan several times a year as insurance rules and regulations as well as changes in the drivers personal life can have an effect on the rates. With tools like QuoteHelper.com available it's become quite easy for users who aren't knowledgeable about insurance rules to take advantage of their system that does the hard work for them.
Even if someone is driving in one of the most expensive states, it's still possible to save over 30% annually.