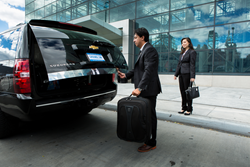 80 percent of travelers vow to continue traveling this summer, avoiding airports with long security waits.
New York, NY (PRWEB) June 23, 2016
With this summer travel season predicted to be one of the busiest and with the July 4th holiday around corner, GroundLink®, a leading tech-enabled black car service, surveyed nearly 200 frequent business travelers on their opinions on topics related to summer travel. More than 40 percent of those surveyed are most concerned about longer airport security lines and increased wait times. Twenty percent say it is airline delays that will cause them the most stress this summer followed by 15 percent who are concerned about fewer TSA workers to deal with the season's surge in travelers. Summer thunderstorms and weather delays are cause for concern according to seven percent of those surveyed and four percent cite the rising number of airline turbulence and mechanical issues as a reason to be concerned about traveling this summer. Five percent don't plan on traveling at all and eight percent mentioned other concerns such as terrorism and safety at the airports
Travelers Vow to Continue Traveling This Summer Avoiding Airports with Long Security Waits
Despite these travel concerns, more than 80 percent of business travelers surveyed said they would travel as usual this summer. Fifteen percent said they will continue to travel but they will avoid airports with long security waits. More than half (57 percent) of those surveyed participate in either TSA Pre-Check or Global Entry and 63 percent said that these programs will be a huge benefit this summer given the rise in the number of travelers and TSA issues. Of those who are not currently enrolled in these programs, 20 percent said they would sign up this summer and 36 percent said they would not apply, while 43 percent said they remain undecided.
Democratic National Convention in Philadelphia to Add to Travel Stress This Summer
With major political events and global sports events slated to take place in the coming months, frequent travelers say that the Democratic National Convention in Philadelphia is the most likely event to put added stress on an already fragile travel system. The GOP Convention in Cleveland and the Summer Olympics in Rio followed.
Families Traveling Together and Men Most Likely to Be Disruptive Travelers
When the summer travel heat is on, according to those surveyed families traveling together (29 percent) and male travelers (28 percent) are most likely to misbehave. Children (19 percent) and women (five percent) follow. Democrats and Republicans are equally (three percent) likely to be disruptive travelers.
New York's Airports Worst for Security Line Waits and Flight Delays
In terms of worst airports for security line waits, according to survey respondents the top five are: (1) New York's JFK (52 percent), (2) Chicago's O'Hare (49 percent), (3) New York LaGuardia (43 percent), (4) Newark (32 percent) and (5) Los Angeles (31 percent). The worst airports for flight delays are: (1) New York LaGuardia (46 percent), (2) Chicago's O'Hare (45 percent), (3) New York's JFK (35 percent), (4) Newark (25 percent) and (5) Atlanta (23 percent).
Travelers Plan Ahead and Leave Driving to the Airport to Professionals
To get to the airport in time an overwhelming 78 percent of those surveyed said they will plan ahead and book a car service to the airport with plenty of time prior to their departure, and 77 percent prefer to be driven by a professional driver as opposed to renting a car/driving themselves or using a van/shuttle service, a shared/car-pooling service or taking public transit.
About GroundLink
GroundLink is the reliable and safe black car service provider for discerning travelers. Available in major cities throughout the world and offering the industry's only on-time guarantee, GroundLink focuses on duty of care, with professional drivers who are screened, properly licensed and fully insured. GroundLink offers a multiple booking platform for its consumer and corporate clients that includes its website (http://www.groundlink.com), its iPhone or Android app, and its 24/7 Customer Service Center (855.463.7150). GroundLink has offices in North America and Europe, with its headquarters in New York, NY. Connect with GroundLink on Twitter @GroundLink and on Facebook.com/GroundLink.