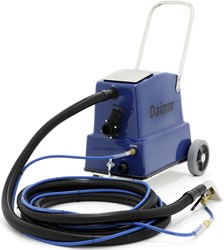 Daimer® is thrilled to have met the demands of the industry with our leading-edge interior car cleaning systems. The XTreme Power® XPC-5700U is ...
Woburn, MA (PRWEB) September 26, 2013
Daimer Industries, Inc.®, a global resource for versatile steam car wash systems and a top suppliers of powerful cleaning systems, has introduced a superior interior auto detailing line, the XTreme Power® XPC-5700U. The thoughtfully engineered mobile car wash equipment offers a variety of cleaning features, including low-flow technology for fast drying times, and various add-on cleaning heads in varying sizes to meet the challenging cleaning demands of a high-end car detailing business.
"Impeccable cleaning and maintenance is imperative for premium cars like limousines, but those maintaining them often complain about the lack of options available while selecting cleaning systems to keep limousines looking new and attractive," says Diamer Industries, Inc.® spokesperson, Matthew Baratta. "Daimer® is thrilled to have met the demands of the industry with our leading-edge interior car cleaning systems. The XTreme Power® XPC-5700U is yet another guaranteed performer from our auto detailing line and designed to make interior detailing vastly easier and effective for operators."
One of the striking features of the XPC-5700U is its compactness and easy maneuverability for even inexperienced cleaning staffs. The interior mobile car wash equipment is powered by a two-stage electric motor that delivers a pump pressure of as much as 120 PSI. The machine supports hot water temperature of up to 140°F and offers water lift of 100 inches and an air flow of 100 cfm. The mobile car wash machines include a 4.5 gallon tank for solution and a 4 gallon tank for fluid recovery.
The multi-purpose auto detailing machines do not have heating features and are ideal for use on fragile fibers and delicate finishes. The new auto detailing line of car wash equipment features the unique low flow technology that allows upholstery and carpets to dry relatively quickly. Users can expect upholstery to dry in just about an hour. The machine can be used to clean fabric seats, and is definitely an excellent complement to those using powerful car pressure washer machines for exterior washing.
The XTreme Power® XPC-5700U offers truly effective carpet cleaning benefits. The machine comes standard with the 4 inch, adjustable upholstery cleaning wand for efficient cleaning and for maintaining upholstery. Customers can order an optional 10 inch wand. The powerful mobile car wash machines come with two 25-foot hoses, one for solution and another for vacuuming of carpets and upholstery.
Additionally, Daimer® is offering two gallons of its Eco-Green® Carpet Care and Upholstery Cleaner for free with the XTreme Power® XPC-5700U during promotions. The soap-free concentrate is environmentally safe and poses no threat to humans or pets. When pre-sprayed with this solution, carpets remain cleaner for longer time periods. Two gallons of this concentrate can be diluted to make 64 gallons of the solution. The solution leaves no residues and gets extracted immediately during the upholstery and carpet cleaning process.
The upholstery cleaners are housed in small footprint cases for handling convenience and easy maneuverability. Daimer® machines are durable and come with the best components for the ultimate in reliability and longevity.
For Additional Information:
To learn more about Daimer®'s mobile car wash systems, exterior steam wash systems, and interior car wash machine equipment, visit the company website or call Matthew Baratta at (888) 507-2220.
About Daimer Industries, Inc.®:
Daimer® is a major supplier and worldwide exporter of the cleaning industry's leading line of KleenJet® steam cleaners; Super Max™ commercial and industrial pressure washers, including cold water, hot water, and steam pressure washing machines; and XTreme Power® floor cleaners, including carpet cleaners and hard surface cleaners.
Watch Video: https://www.youtube.com/watch?v=GW7LwZkBNl8.