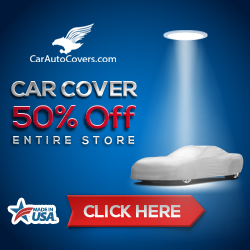 "We strive to provide a high quality car cover for all makes and models of cars and trucks ever sold here in the USA" Sam S. Stevens
Anaheim, California (PRWEB) September 15, 2015
CarAutoCovers, a leading supplier of protective automobile covers in North America, has launched their line of car covers for 2016 import cars. With their finger on the pulse of the marketplace, this proactive approach to changes in customer vehicle preferences was built with the driver in mind. In keeping with tradition, the country of origin of the automobile may vary widely, but CarAutoCover's products are always made in the USA.
The launch of the new product line was determined by extensive market research, customer feedback, and general industry buying habits. Car covers for 2016 import cars include:

2016 Acura NSX - The updated NSX model will include a hybrid powertrain which will meet the needs of the consumer segment who makes buying decisions based on environmental impact. CarAutoCovers sees a market opportunity for consumers to protect their investment with a quality car cover product.
2016 Audi Q7 - The completely redesigned Q7 is lighter and more fuel efficient that its predecessors and these changes are expected to drive sales growth in the sector. With the growing market for luxury SUV's seemingly unstoppable, CarAutoCovers will meet the demands of this popular new model from Audi.
2016 Audi R8 V10 - This sleek and sophisticated sports car enters its second generation with increased power and capabilities. Drivers looking to protect the vehicle's aluminum bodywork and carbon fiber accents will have their needs met by a CarAutoCovers product designed to keep rain, snow, sun, ice and wind off this their investment.
2016 Audi TT - In keeping with the trend that Audi will be taking the 2016 car buyer's market by storm, CarAutoCovers will be announcing that part of their line of car covers for 2016 import cars will include this model. Industry insiders are predicting big things for this new, larger model that dials up the bells and whistles as opposed to its older releases.
2016 Fiat 500X - As Fiat continues its long comeback to the forefront of the auto industry, its new model is proving to be very popular at such trade venues as the Paris Auto Show. The model's availability in five trim lines is intended to boost more interest and CarAutoCovers Fiat selection will suit each and every option Fiat customers have with the new model.
2016 Honda HR-V - Even first generation new vehicles will be served by the company's new line of covers. This includes the brand new Honda HR-V crossover which will be serving as a smaller and more affordable version of the existing CR-V model. CarAutoCovers expects the vehicle to be popular among mid-range budget buyers and will be included in its line of car covers for 2016 import cars.
2016 Honda Pilot - Adding this vehicle cover to the 2016 line was a no-brainer due to the popularity of previous Pilot models. The full-size SUV plans to attract more customers in its 2016 model through contemporary styling, reduced weight, and 3.5-liter V6 engine.
2016 Hyundai Tucson - Another popular SUV among mid-range budgets, the new Tucson sports a slick new outer design, increase space inside the vehicle and a range of safety upgrades. CarAutoCovers understands that even moderately priced vehicles need to be protected from the elements and that's a driving factor behind the inclusion of this product in their line of car covers for 2016 import cars.
2016 Jaguar XF - The popular midsize 4-door plans to build on strong sales by launching the new model that is lighter and packed with a supercharged V6. Realizing that the vehicle will be in high demand, the company has included it in the 2016 product launch.
2016 Kia Optima - One of the most popular cars in American is looking to keep its place atop the sales charts with its friendly price tag and plethora of options, CarAutoCovers option to offer protective covers for this model was an easy decision.
In addition to meeting the needs of upcoming imported car marketplace, CarAutoCovers will still be offering their line of the thickest and most reliable car covers available in today's market for a wide variety of older model vehicles. The product is painstakingly researched in order to provide a superb fit at the best prices and there is always a price match guarantee and free shipping.
CarAutoCovers is headquartered in Anaheim, CA and has operations in Champlain, NY and Montreal, Quebec. After a decade in business and many more years of experience in the industry, the company is rooted in the premise of an organization built by drivers to serve drivers. The simple goal of the CarAutoCovers is to make it simple for customers to find the best car or truck cover that suits their particular vehicle and it's this philosophy that is built into the new line of car covers for 2016 import cars.