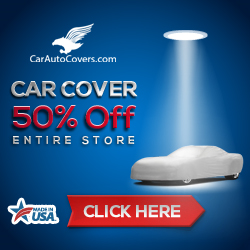 "Expanding our online marketing allows us to reach a far greater customer base than traditional old school marketing." Samy Sabbah
Anaheim, California (PRWEB) July 15, 2015
CarAutoCovers.com Expands Internet Marketing Efforts. Anaheim, California-based CarAutoCovers.com announces expanded direct marketing to consumers. It has customized its website wording and presentation to encourage internet search engines to identify product with key words which optimize search engine indexing (SEO). By enhancing its marketing layouts via key words, search engine marketing (SEM) allows potential customers to identify product, source, procurement, and delivery. Additionally, with social media shifting words from day to day and week to week, the company is able to adjust its website layouts to reflect the changing attitudes in the challenging social media marketing of the internet universe. Company assessment of preliminary response to this approach on sales has revealed increased movement of car covers and truck covers, reflecting an uptick in visitors to the company's website and ultimate purchase.
A Company Positioned for Growth. CarAutoCovers.com was founded in the first decade of the century in New York City by consumers, i.e., by drivers of vehicles. Its car cover products are now readily available in North America through its Anaheim headquarters (with its main warehouse) and also through its warehouses in Champlain, New York and Montreal, Quebec, Canada. Car covers and truck covers available by the company reflect its commitment to consumers by making available the best in the car cover marketplace. CareAutoCovers.com maintains an inventory of quality products from reliable, consistent, and reputable manufacturers.
User-Friendly Website and Consumer-Friendly Company. Any browser search engine with key words like "car cover" or "car covers" or "truck covers" will index product providers. By clicking CarAutoCovers.com, consumers reach the company's consumer-friendly website. Those consumers are real drivers looking for specific car cover options. The website provides a "Vehicle Search" engine on site. A consumer need enter only the year, the make, the model, and the trim type and enter "find" to identify a custom product suitable for the consumer's vehicle. The consumer, whether in the USA or Canada, is assured of American craftsmanship with a broad selection of covers, lowest price (i.e., best price guarantee), perfect form whether for car covers or truck covers, free and swift shipping, and lifetime product warranty. Should there be any dissatisfaction, products may simply be returned within 30 days of order (or within 60 days of holiday seasons) and money will be returned.
A Company with a Reputation for Quality. The very design purpose of car covers and truck covers is protection from the elements. Consumers desire a customized product and one that does not leak. A car cover that is stitched, bolted, nailed, stapled, soldered, or glued together has a tendency to leak at the seams. Car covers and truck covers from CarAutoCovers.com are fabricated using ultrasonic welding, a process utilizing high-frequency vibrations to weld plastic materials together on a solid-state basis, even when plastics are dissimilar. The company encourages consumers to verify the construction of any car cover and to choose quality construction using this ultrasonic welding process. Additionally, CarAutoCovers.com guarantees that any car covers or truck covers ordered will fit the vehicle for which it was ordered (the "Sure-Fit Guarantee"). Any car cover failing to fit a specific vehicle will be exchanged for a correctly fitting cover at no extra cost to the consumer.
Customer Service. CarAutoCovers.com has made real human beings available 24/7 as part of this expanded marketing program. Customers may call 1 (800)288-5844 around the clock and speak with a real person or choose "Live Chat" from the company website for live text messaging. Regular office hours are 9 am to 9 pm on weekdays, Eastern Standard Time. The company accepts payment by major credit card, including PayPal. All consumer service is by a secure and private server. Order verification and tracking information is accomplished by email. All product is shipped within 24 hours of order via free FedEx, UPS, or USPS in the continental US. Free shipping to Hawaii, Alaska, Virgin Islands, and Puerto Rico uses only USPS. Shipments to Canadian customers are via free CanadaPost. (Canadian Tax, duty, and other governmental fees are included in the price at shipment.)
A Company Concerned with Measuring Company Success and Consumer Happiness with Products Delivered. CarAutoCovers.com has utilized the "Shopper Approved" company on its website to foster evaluations of company practices. Typically, Shopper Approved reports a successful surveying rate of 42%. CarAutoCovers.com has posted its rating data on its website under a webpage entitled "Reviews." It notes that 97% of its customers would recommend the car cover company to a friend. On a five star scale with 9,031 paying customers reporting, 7765 rated the company at a five star level, 1058 at a four star level, and 176 at a three star level. The star rating was based on assessment of customer recommendation of the company, customer willingness to purchase another product from the company, price, product satisfaction, delivery time, and customer service. Customer comments were characterized by such comments as "easy purchase," "quick and easy order process," "competitive prices," "provided options as per our needs and smooth transaction," etc.
Additional Information Available. Further details concerning this company, its products, and its marketing strategy can be obtained by contacting:
CarAutoCovers.com
Email: Info(at)CarAutoCovers(dot)com
Toll Free Number: 1-800-288-5844