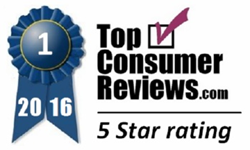 We are pleased to say that CARCHEX is our top pick for Vehicle Inspection services in 2016.
Overland Park, KS (PRWEB) September 14, 2016
TopConsumerReviews.com recently gave a best-in-class 5 star rating to CARCHEX, a leader among online providers of Vehicle Inspections.
With significant depreciation just from driving off the lot, new cars lose their value quickly. Choosing a pre-owned vehicle has long been recognized as a smart way to save money when buying a car. However, customers often worry about the reliability and safety when making a used vehicle purchase. Vehicle inspections are the best way to ensure that any car, truck, or SUV is a good value for the money and will be likely to function well in the future. These inspections typically examine the condition of the body- including paint, dents, scratches, and so forth - along with the function of the vehicle's systems, such as the engine, electrical components, and drive train. Many inspections also include a road test, to evaluate the vehicle's actual performance while driving.
"CARCHEX is well known by shoppers looking to buy a vehicle, especially when it comes to a car's title history," explained Brian Dolezal of TopConsumerReviews.com, LLC. "It's no surprise that they also lead the way with respect to vehicle inspections. CARCHEX offers two packages, both of which include a 155-point pre-purchase inspection that looks at the major components of the vehicle, and a 2.5-mile road test. For those who can't be there in person while the vehicle is inspected - because of work obligations, or buying a vehicle in another part of the country - CARCHEX services are performed nationwide by ASE-certified technicians. We are pleased to say that CARCHEX is our top pick for Vehicle Inspection services in 2016."
To find out more about CARCHEX and other online providers of Vehicle Inspections, including reviews and comparison ratings, please visit the Vehicle Inspections category of TopConsumerReviews.com at http://www.topconsumerreviews.com/vehicle-inspections/.
About CARCHEX
Headquartered in Hunt Valley, MD, CARCHEX is the trusted resource for professional automotive services for consumers and dealers. Consumers can use the CARCHEX Advantage system to Select, Inspect, Purchase and Protect their next car online. An innovator in pre-purchase vehicle inspection programs, the CARCHEX system provides consumers the confidence to buy their next car online.
About TopConsumerReviews.com
TopConsumerReviews.com, LLC is a leading provider of independent reviews and rankings of hundreds of consumer products and services. From Vehicle Inspections to Auto Warranties and Travel Insurance, TopConsumerReviews.com delivers in-depth product evaluations in order to make purchasing decisions easier.