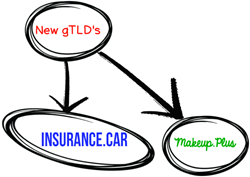 There are an estimated 50,000 new websites launched every day!
(PRWEB) January 28, 2016
The face of the Internet has changed forever, and most people have not even recognized that there is a new gold rush happening right under their fingertips. The birth and discovery of new virtual land for pioneers to claim for their own is in this new digital economy.
With millions of websites already online, and 50,000 new websites launching per day, most people have not even noticed the fact that there are new generic top level domains hitting the market daily and Leads.Plus is currently among the biggest gold rush, pilgrimage, and digital land grab ever seen.
Leads.Plus has launched a new gTLD Service to help brands manage the gTLD frontier, using Big Data to help choose the right gTLD's and digital strategies for their business needs and applications.
What is a generic top level domain (gTLD)?
New top level domains are similar to the .com, .org and .biz suffixes of the old days, but now marketers, companies, spammers and entrepreneurs can grab their own industry suffix and put up as many new websites as possible. For example, car dealers might grab nissan.car, or .auto, advertising firms can grab their firm name in a .ads. The possibilities go on and on.
Example: A car insurance company can have Insurance.car as a domain
What does this mean for big brands?
For large brands, this can mean a headache. Those who are early adopters and have been planning all along have probably captured their brand and can minimize the potential future litigation that will arise from a new top level domain violating their corporation name or trademarks. For example, large corporations that have planned ahead and grabbed their names include .barclaycard, .bestbuy, and .fujitsu.
Corporations who are planning ahead are also acquiring this new real estate in what they call the "sunrise stage," saving themselves a ton of money and headaches in the future, so planning is always the best choice. Unfortunately, many people have no idea what's going on now and many are in a reactive stage. That is where most companies and/or brands are today.
What does this mean for your business?
If a new business is looking to expand, the good news is that these new top level domains offer an opportunity to own real estate online where new companies like it couldn't own it before. This may actually become a leveling field for a new business because the opportunities are endless.
What does this mean for consumers?
Unfortunately, some consumers may become more confused than ever. Some consumers may not completely understand how these new domains work and who owns them, especially for the brands and products that many know and love. There are many people taking advantage of this new real estate boom and purchasing websites that may be very confusing or misleading to consumers with gTLDs, like .bank, .insure or .credit. Seemingly secure sites may become a scammer's paradise. So, again, consumer society could be brought back to the world of buyer beware.