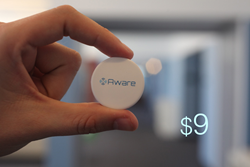 There's a lot you can learn from your car via in-dash dongles, but if you're more interested in interacting with your car, AwareCar may be for you. With an app and a Bluetooth beacon, you'll get relevant info ... all for $9. —TheNextWeb
San Francisco, California (PRWEB) August 19, 2015
Today, there's a ton of tech available for cars, especially on the higher end models. But there is not much available to make a car smarter at an affordable price. That's why the team at AwareStack, Inc. developed the AwareCar device for $9.
The device uses a phone's sensors to track a car instead of standalone GPS car trackers. Thanks to innovations in the Internet of Things ecosystem, the project aims to tackle other challenging problems such as avoiding texting while driving using this device.
AwareCar was recently featured in ABC evening news broadcast. Current devices in the market with similar features cost about $99. Jonathan Bloom of ABC News says "AwareCar has a different business model because the device is priced at only $9."
AwareCar uses context awareness to make cars smarter. The system uses customized 'Bluetooth Low Energy' beacons for cars. By using micro location events, AwareCar knows exactly where the user and his/her phone is located in relation to their vehicle without the expensive price tag of GPS car tracker. Simply toss the ultra compact device into the glove box. Now one can get real-time location based information, like where the car is parked, without ever having to access the app or saving the location. Plus AwareCar can track elevation and also reminds one to pay for parking if they're in a metered spot. AwareCar's app works seamlessly with iOS or Android enabled devices.
Nate Swanner of TheNextWeb says "There's a lot you can learn from your car via in-dash dongles, but if you're more interested in interacting with your car, AwareCar may be for you. With an app and a Bluetooth beacon, you'll get relevant, location-based info — all for $9."
Their Kickstarter campaign is over 300% funded with a week left to go. This is the final week of pre-order sale on Kickstarter.
About AwareStack, Inc.
AwareStack, Inc designs and builds hardware and software that enables mobile apps to understand the world around them.
Email: hello at awarestack dot com