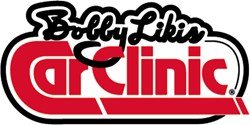 The spirit of giving thrives here at Car Clinic! Through the generosity of our sweepstakes sponsor/partners throughout the year, listeners, viewers, fans and followers win prizes that can make a difference in their lives.- Likis
(PRWEB) December 23, 2013
Bobby Likis has announced the winners in Car Clinic's "Fuel Fall Fun" sweepstakes. Prizes included a $500 gas card from Likis, a $250 VISA card from the Renewable Fuels Association, a Passport Max radar/laser detector from Escort Radar, a lambskin leather jacket from Royal Purple and a $200 VISA card and automotive goody box from Bar's Leaks and Rislone.
Likis enthusiastically reflects, "The spirit of giving thrives here at Car Clinic! Through the generosity of our sweepstakes sponsor/partners throughout the year, listeners, viewers, fans and followers win prizes that can make a difference in their lives." He adds, "And especially at the holidays, hearing the excitement in the winners' voices is quite a gift for all of us."
Winners of Bobby Likis Car Clinic's "Fuel Fall Fun" Sweepstakes include:

Sarah Gettinger in San Francisco, CA - Winner of the $500 Shell gas card, compliments of Bobby Likis
Deb Klein in Chicago, IL – Winner of the $250 VISA gift card, compliments of the Renewable Fuels Association
Diane O'Neal in Houston, TX – Winner of an ESCORT Passport MAX radar/laser detector, courtesy of ESCORT, Inc.
Kim Becker in Las Vegas, NV - Winner of the Royal Purple lambskin leather jacket, compliments of Royal Purple
John Henderson in Miami, FL – Winner of the Bar's Leaks/Rislone automotive product goody box and a $200 VISA gift card, compliments of Bar's Leaks/Rislone
Likis' live calls to the winners can be found on the "Bobby Shares the Mic" web page.
About Bobby Likis Car Clinic and the Car Clinic Network
"Bobby Likis Car Clinic" is the largest car-talk program/network on commercial radio, multiple web audiocasts, live video streaming webcast, podcasts (including iTunes), iPhone, chat room, YouTube, Facebook, Twitter, American Forces Radio Network & television. Car Clinic can be heard and seen on Saturdays, 10a-12n ET, live at WatchBobbyLive.com and on Facebook.com/BobbyLikis. Host Bobby Likis is the only car-talk host on commercial multimedia platforms named for five consecutive years to the "Talkers 250," the prestigious list of the top 250 talk-show hosts in America.