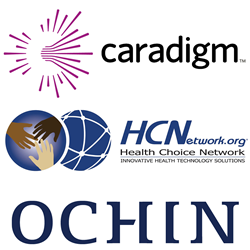 It's critical to find ways to enable the healthcare clinics in every community—our country's safety net—to participate in healthcare reform.
Bellevue, WA (PRWEB) March 13, 2014
OCHIN, Inc. and Health Choice Network, Inc. (HCN), two of the nation's largest health information networks, have launched Acuere QOL, a quality improvement, healthcare data aggregation, and data analytics solution designed to help community health centers (CHCs) and Primary Care Associations (PCAs) nationwide improve care and outcomes for underserved populations.
Acuere QOL is a scalable solution co-developed and hosted by OCHIN and HCN on the Caradigm™ Intelligence Platform (CIP). CIP aggregates and normalizes clinical, operational, and financial data from systems across the community—including electronic health records (EHRs), billing systems, payers, pharmacy systems, labs and HIEs—to enable rich healthcare analytics and population health applications.
Using Acuere QOL, CHCs and PCAs can leverage a national repository of clinical, dental, claims, financial, and administrative data—aggregated from OCHIN's and HCN's health information networks—to achieve a longitudinal patient record and to gain insight into populations and clinical performance with the goal of improving the efficiency and quality of care. The solution also enables CHCs and PCAs to identify, report on, and drive quality improvement initiatives using ACO, Meaningful Use, and Uniform Data Set (UDS) measures and to benchmark performance against national and state rankings.
"It's critical to find ways to enable the healthcare clinics in every community—our country's safety net—to participate in healthcare reform," said OCHIN CEO Abby Sears. "Fundamental to this effort is delivering the right data to the right people at the right time to improve care, costs, and outcomes. By creating a nationwide repository of clinical and claims data—and making it easily available to our healthcare communities—we're delivering on that promise."
The Acuere QOL solution currently comprises clinical and claims data representing:

Over 1.7 million unique patient visits
Seven million patient visits
141 CHCs
Up to seven years of historical data
As a cloud-based solution, Acuere QOL is designed to scale to accommodate network growth and evolution into additional population health applications.
"OCHIN and HCN have shown how partnership and health IT innovation can drive healthcare transformation," said Michael Simpson, CEO of Caradigm. "We're excited to be part of their effort, and we look forward to seeing the positive impact on care for underserved populations."
About Caradigm
Caradigm is a healthcare analytics and population health company dedicated to helping organizations improve care, reduce costs, and manage risk. Caradigm analytics solutions provide insight into patients, populations, and performance, enabling healthcare organizations to understand their clinical and financial risk and identify the actions needed to address it. Caradigm population health solutions enable teams to deliver the appropriate care to patients through effective coordination and patient engagement, helping to improve outcomes and financial results. The key to Caradigm analytics and population health solutions is a rich set of clinical, operational, and financial data delivered to healthcare professionals within their workflows in near-real time. This data asset serves as the foundation for a growing number of innovative healthcare applications developed by Caradigm and industry partners, providing rapid incremental value to customers. Visit: http://www.caradigm.com.
About OCHIN
Established in 2000 through a partnership with CareOregon, the Oregon Primary Care Association, Multnomah County Health Department, Clackamas County Health Department, and Virginia Garcia Health Clinics, OCHIN became an independent nonprofit in 2002. Headquartered in Portland, Oregon, OCHIN is one of the nation's largest Health Information Networks and is recognized for its innovative use of Health IT to improve the integration and delivery of health care services across a wide variety of practices. With an historical emphasis on safety net clinics and small practices, OCHIN has expanded to include private practice providers and specialists. To date, OCHIN operates in 17 states and supports 75 health center networks and over 4,500 medical providers who serve over 2.5 million patients. Visit: http://www.ochin.org.
About Health Choice Network
Based in Miami, Fla., Health Choice Network is one of the nation's most successful collaborations of community and mental health centers — serving approximately 1 million "safety net" patients through a network of 43 health centers in 11 states. As a 501(c)(3) nonprofit organization controlled by its health centers, HCN provides high-level business, technology and administrative services that allow our member centers to operate more efficiently, deliver care more effectively and serve more patients — improving access to quality health care in historically underserved communities. These support services range from robust revenue cycle management tools to cutting-edge health information technology, including the integration of electronic health, oral and behavioral health records, as well as a strong analytics platform. http://www.hcnetwork.org
Media Inquiries:
Peggy Fischer
Peggy.Fischer(at)Caradigm(dot)com
425.201.2292
Ruby Haughton-Pitts
haughtonpittsr(at)ochin(dot)org
503.784.2284
Kevin Kearns
President and CEO
KKearns(at)hcnetwork(dot)org
305.599.1015 Ext 18002