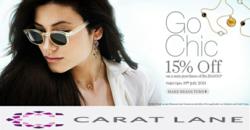 CaratLane.com, India's most trusted and leading online jewellery store has announced July sale - Go Chic Collection
Chennai, Tamil Nadu, India (PRWEB) July 10, 2013
There is an old Chinese proverb that says "Better a diamond with a flaw than a pebble without." Styling and accessorizing is all about striking the right proportions of bling on one. It is extremely important to remember that wearing none or overdoing will affect ones style quotient.
Chic style is all about being a little more than the ordinary. Being a little away from the normal style will surely make heads turn. Little more than ordinary doesn't mean that one needs to be decked up to grab attention. It is more like wearing a smart cocktail ring with a plain jacket and chic attitude.
Sporting big, bold and colorful accessories seems to be the new fashion mantra among the youth. Opting for bead or stone accessories might be an inexpensive way to get a new look, but if one wants to be in the limelight or experiment with designer collection, have a glance at Caratlane's Chic collection.
CaratLane.com, India's most trusted and leading online jewellery store has announced one-of-a-kind jewellery sale that would benefit a whole lot of style struck women in town. Go Chic with contemporary diamond and gemstone jewellery designs at discounted price. Chic collection includes earrings, pendants, rings, bracelets and many more that you will be dazzled to narrow down the best pick for you.
It's that time of the year when women get to build their closet with head turners- It's Sale time! The most irresistible designs with fine diamonds and gemstones are waiting for them to gush with their cards on CaratLane.com "Go Chic". This offer is valid up to 19th of July, 2013 so get ready to be overwhelmed with a variety of office wear, party wear, casual wear and much more.
A dazzling variety of themed jewellery collections will woo one to shop it all. This is not the time to be afraid of over spending because the more spent, the more saved due to 15% off on Chic collection. In case of any confusion or query, customers can always talk with the jewellery experts available online through chat or call them at 1800-102-0103 for better and easy communication.
About Caratlane.com: Beyond any doubt Caratlane has built an envious reputation as the most genuine store that offers nothing but the best since its inception in 2008. With more than 7 different payment options, free jewellery consultation and free insured shipping. Caratlane.com has taken every step to make your online jewellery shopping more exciting and memorable.