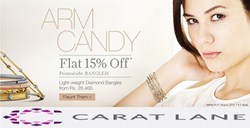 Chennai, Tamil Nadu (PRWEB) August 15, 2013
As a fashion conscious jeweler, CaratLane.com presents Arm Candy collection highlighting the current seasonal trends at flat 15% off and will work with LAD Solutions to share this promotion. This collection starts at surprising prices like Rs. 26,300 or $430 onwards.
Bangles are the outcome of creative expression to embellish the delicate hands of a woman and there is no wonder in stating that a pair of diamond bangles tops the wish list of every woman. Arm Candy collection from Caratlane.com is an amalgamation of classic and modern style for women who love the clinks and the comfort of bangles. The chic bangle collection with over 150 crafted designs is a depiction of artistic elegance. Available in white gold, yellow gold and rose gold studded with diamonds, Arm Candy collection will enhance the beauty and adds an air of character to the person adorning them. These bangles are designed perfectly to suit the eclectic taste of every Indian woman.
Offering an extravagant collection of bespoke gold and diamond bangles at rock bottom prices will surely lure every woman to make them a part of daily styling. Beautifully crafted Arm Candy bangles are dedicated to the woman who embraces the euphoric natural beauty that blends the elegance of diamonds with the power of creativity of the skilful artisans.
There is no denying the fact that bangles have become a part and parcel of Indian tradition since time immemorial. So, with plethora of bangles to choose from, one can collect as many arm candies as they can before the sale ends. In case of any query, customers can reach jewellery experts on 1800-102-0103 or chat with them online.
About Caratlane.com:Caratlane.com has built an envious reputation as one of the largest and most trusted online jewellery stores. The journey was never easy but the commitment to deliver nothing but the best stands Caratlane.com apart from other jewellery stores and makes it the most preferred jewellery stores in India. All the gold and diamond jewellery from Caratlane.com are authentic and carries certification from International organizations like GIA, IGI and BIS hallmarking (for gold). With more than 7 different payment options, free shipping and lifetime exchange, Caratlane.com has taken every step to make online shopping a thrilling and memorable one.