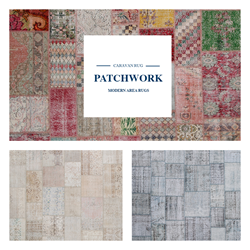 Considering the hand knotted Turkish wool and beautiful craftsmanship, the Patchwork Trend Collection from Caravan Rug Corp is offered at reasonable prices.
Los Angeles, CA (PRWEB) April 28, 2014
Caravan Rug Corp., a major producer and distributor of luxury quality area rugs, proudly announced today the arrival of a new collection of modern rugs. The Patchwork Trend Collection is a beguiling series of hand knotted wool area rugs from Turkey that raise the bar on your old patchwork quilts.
Considering the hand knotted Turkish wool, top quality craftsmanship, and overall beauty of these rugs, Caravan presents their Patchwork Collection at reasonable prices. The charming patchwork creations range from vivid multi-color schemes, to more neutral schemes of dusty pinks and pale blues. Every rug in the Patchwork Trend Collection is a one-of-a-kind piece that would bring life into any home. Right now, there are only 16 of these gorgeous rugs on hand and when one is sold, there will never be another like it.
These unique, affordable modern rugs are being offered on a new page on Caravan's newly remodeled website.
The Patchwork Trend Collection and all of Caravan's modern rug collections are on display at Caravan's newly-remodeled showroom at 8725 Wilshire Boulevard, Beverly Hills, CA 90211, as well as on their online rug store. The large retail showroom, as well as a wholesale section for members of the design trade community, is a great way to check out what Caravan Rug Corp is all about. Their exclusive creations have been distributed to a large network of dealers all over the country.

Brought to you by TRIXMEDIA : Creating Possibilities
Full Service Branding Agency in Beverly Hills, CA