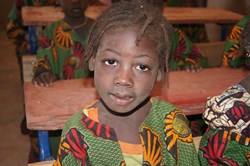 Education is a fundamental right and elevates the quality of life for all children. - Caravan to Class Founder and Executive Director, Barry Hoffner
(PRWEB) September 03, 2013
Caravan to Class, the only US-based 501c3 charitable organization building and funding the operations of schools in villages outside of Timbuktu, since the closing of Arizona-based non-profit TurtleWill, will rebuild two schools which were partially destroyed by Ansar Dine Islamic militants during 2012. One of the schools was used by the militants to store weapons. Caravan to Class was able to reopen four of its schools in April of 2013, roughly one year after Ansar Dine, Islamic militants linked to Al Qaida, closed them. This formerly conflict area, which had created the world's second largest population of refugees after Syria, was liberated by the French military in January 2013, and together with UN Troops' presence, Timbuktu has seen peace once again. The recent elections in Mali have further increased stability, allowing vital aid to flow to a war-torn area.
Caravan to Class has been operating in the region since 2010, building and funding the operations of eight schools for children 6 – 12 years old, paying teachers' salaries, procuring food, together with its partner the UN World Food program, and providing school supplies. In addition, with its local NGO partner NorDev and two staff on the ground, Mr. Hamadou Toure and Mr. Abdoulaye Toure, Caravan to Class is working with the village heads and parent communities to prioritize literacy for their deserving children. "There is nothing like seeing a young Tuareg girl in one of the schools we support in the Southern Sahara Desert desert, reciting the French alphabet with a smile on her face, knowing that she will be the first in her family to achieve the dream of literacy", says Barry Hoffner, Founder and Executive Director of Caravan to Class, a San Francisco-based 501c3 charitable organization. He adds "with the price of literacy at less then 1% of what it costs to educate a child in the United States, funding education in Timbuktu is a very worthwhile social investment."
Caravan to Class will shortly launch a fundraising campaign to rebuild the schools of Tourari and Tombouz, constructing two new three-classroom buildings made of durable cement, aluminum windows, doors and roofs, including new desks and chairs. The total cost of the two projects will be roughly $60,000 and should be completed by mid-2014. The schools will be prominently located in the middle of these villages, making the schools and the message that education brings, the focal point of village life. Hoffner has launched a Call to Action video, narrated by well-known author, actor and human rights activist Peter Coyote.