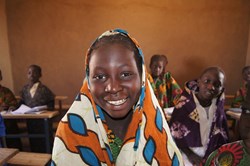 "Better to walk without knowing than to sit doing nothing." Tuareg Proverb
(PRWEB) October 02, 2013
On April Fools' Day, April 1, 2012, Founder and Executive Director of Caravan to Class, Barry Hoffner, awoke to an early morning phone call from Mr. Hamadou Toure in Timbuktu, Mali. Mr. Toure, the head of Nord et Developpement, Caravan to Class' locally-based NGO partner, which administers their education projects, anxiously relayed the news that Timbuktu had been taken over by Ansar Dine, a group linked to Al Qaida. Hoffner had only just returned to San Francisco, California, where Caravan to Class is based, from a trip to Timbuktu to visit six of their schools.
Only a few days later, Mr. Toure and his family were robbed at gunpoint by the militants and their car was stolen. These events set off an exodus of people from this fabled town. Shortly after the takeover, the few NGOs that were left were forced to close their doors and flee, including Mr. Toure and his family. The UN World Food program shut its office and left as did the Timbuktu Ministry of Education whose offices were ransacked shortly thereafter by the militants, according to a report by IRIN News, Africa in April 2012.
With many of the people from the eight villages where Caravan to Class has school leaving as refugees to neighboring Niger, Burkina Faso and Mauritania, Caravan to Class was forced to temporarily suspend its activities in Mali. "I told myself, let's just wait three months and see what happens, surely the Malian military and the international community would not let a militant group of outsiders take over more than half of Mali's territory", said Barry Hoffner. However, three months went by and the situation got worse, there were shortages of food and fuel, all business were shuttered, schools were closed, and locals were physically beaten and often worse for minor transgressions of Islamic Law which was imposed in Timbuktu.
Thankfully this all changed towards the end of January, 2013 when the French liberated Timbuktu and the rest of Northern Mali. With increased stability by March, 2013, Caravan to Class made the decision to work with the Ministry of Education and the UN World Food Program to reopen its schools. In the past three months, Timbuktu has seen a significant increase in the number of NGOs starting projects in Timbuktu, many who did not have activities in Northern Mali before. "The sentiment in the North has changed", says Hoffner. "With the recent elections and pressure from the international community, Mali has finally realized that if it wants to hold onto the North long-term it will need to better prioritize development there." Despite the very recent suicide bombing in Timbuktu, the first deadly incident in Timbuktu in many months, progress has been made in terms of security for aid organizations to increase their presence.
While organizations like the Red Cross and Medecin San Frontiere have continued emergency food assistance in the North, new NGO are emerging to focus on previously underserved areas like education. In addition to Caravan to Class, which was previously one of the few NGOs building and funding schools in Timbuktu, Plan International and Save the Children have been active in starting projects in areas other than disaster relief. "It is fertile ground for development organizations to work together to bring needed services particularly to villages around Timbuktu" says Hoffner. He adds "as an example, Caravan to Class and its local partner NorDev have partnered with a German NGO, Arche Nova, to bring needed water and sanitation to the villages where Caravan to Class has built and supports schools."
There is still a long way to go. With over 950 villages in the Timbuktu region, less than half with schools, and only one third with schools that are open, there is still significant need to educate children in the Timbuktu area. Hopefully, with increased stability both in Northern Mali and at a governmental/political level, conditions will be in place to finally make significant progress in education in Timbuktu.