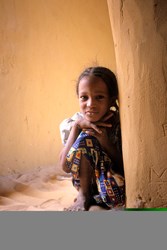 "My biggest dream is to be a teacher." Mohammed Sidi, village of Tombouz, Timbuktu, Mali
(PRWEB) November 26, 2013
As American playwright Edward Albee wrote, "Sometimes it's necessary to go a long distance out of the way in order to come back a short distance correctly." For the people of Mali, having lived through ethnic tensions in the country's north, a military coup that crippled already-weak government, an Islamist militant occupation, increased violence, evaporated tourism, decreased industry, unreliable electricity and a general infrastructure in shambles, a possible silver lining is the hope that following the past 19 months of chaos, the county can rebuild correctly.
More than half a million people were displaced as a result of this political and humanitarian crisis, fleeing to neighboring countries as refugees or moving elsewhere within the country. While some have begun returning to Mali, prospects for self-sustaining work are uncertain, especially for pastoralists whose livestock and fields have been lost. Both for those returning to their hometowns and those remaining in refugee camps, humanitarian concerns are pressing, as Mali and its Sahel neighbors are continually faced with with food shortage and drought.
Following a French-led military intervention to expel the Islamist militants, the international community pushed for presidential elections in July 2013, requiring a democratically-elected government in place before releasing more than $4 billion in aid. Despite varying public regard about the urgency of these elections, while basic needs in security, health, economy and education appeared more immediately pressing for many locals, voters turned out in record numbers.
High turnouts were just around 65%, but compared to Mali's historically low voter turnouts – never exceeding 40% in presidential elections – these are encouraging numbers. While low education levels, a short history with democracy and a rural electorate have contributed to low turnout historically, as have limited faith and trust in public officials, increasing voter engagement and education is essential to effective government that can protect against the crises Mali has recently endured.
Rather than triggers of the crises, the ethnic and religious tensions, coup, and poverty can be viewed as symptoms when viewed in the larger picture of governmental corruption. Despite Mali being regarded for years as a model democracy within West Africa, much foreign aid received was never distributed to its intended populations, and international NGOs with big plans indirectly or directly exacerbated the problem. Funds for purposes of large-scale development were often funneled through the central government, and only went as far as local political elites. With disproportionate executive power and without transparent accounting, Mali's economy stood on a shaky foundation.
The challenge for the new administration, the public and international NGOs alike is to increase accountability and clarity in objectives and action. President Ibrahim Boubacar Keïta, known as IBK, has noted key goals of national unity and military fortification, and additional priorities to include "improving food security through better stock management and irrigation systems; increasing access to mosquito netting for all families; making school obligatory until the age of 16, providing each student with a computer, and encouraging the establishment of a university in every region of Mali; creating 350,000 jobs in five years; improving communications technologies to boost tourism in Mali."
An American nonprofit working in Mali's troubled north is Caravan to Class, which applies a grassroots approach – one that effectively achieves its desired results, on a small but increasing scale. The organization builds schools in the Timbuktu region, working to enroll every child in a given village in school, and measure the learning that takes place there. Its model is to identify villages that have shown commitment to educating their children, including girls, and establish a contract with the village that articulates each side's responsibilities. Caravan to Class then builds and supports a new school – in the initial years, helping to pay teachers' salaries and providing basic nutrition, books and school supplies. The short-term goal is to get children into school; the medium-term goal is for the village to take responsibility for the school operations.
Caravan to Class works in partnership with a local NGO (Nord et Developpment or 'NorDev'), the UN World Food Program and the Timbuktu Ministry of Education, as well as a local management committee from each school to create a welcoming, well-functioning school environment. This hands-on approach, with NorDev staff on the ground, ensures that responsibilities are well-defined; donor funds reach their intended uses; and progress is measured against plans.
Like the Malian people, this work is not immune to government failings as during the crisis, villages were abandoned and schools were closed and used by militants to store weapons. However, Caravan to Class has succeeded in reopening four schools since June, with plans to rebuild and reopen four others.
It is the goal of Caravan to Class that investing in education can mitigate some of the symptoms and underlying causes of Mali's conflict, such as cycles of poverty and violence, child soldiers, disinterest in locally elected leaders, and large numbers of youth entering the job market with limited skills and scarce opportunity. With Mali's lessons learned, and renewed focus on local engagement and building sustainable political, economic, social and educational structures from the ground up, every effort can make a difference.