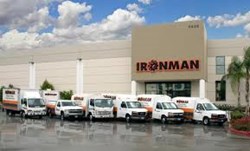 Corona, California (PRWEB) November 25, 2013
Owner operators in California must act soon to meet CARB's year-end compliance deadline or take advantage of "Good Faith" options.
Most of the truck drivers in CA that own a diesel vehicle over 26,000 Gross Vehicle Weight Rating (GVWR) are facing compliance requirements by end of 2013 under the Statewide Truck & Bus regulation. The deadline for installing a diesel retrofit, replacing or scrapping the equipment is December 31st, 2013.
CARB has released an option for Owner Operators to show Good Faith action by December 31st that would allow additional time to complete the compliance action by July 1st, 2014, an additional six months for upgrading the vehicle.
The Good Faith action consists of:
Entering into agreement with an authorized vendor for a diesel retrofit or replacement truck.
Alternatively, if the vehicle owner proves financing has been approved or even denied by December 31st, this too will count towards Good Faith action.
The final and most important action to complete is to report into the CARB reporting database known as TRUCRS by January 31st, 2014, otherwise their vehicle will be deemed out of compliance and be subject to penalties and/or possible DMV registration holds.
Owner operators working in California face numerous regulations to keep their truck up-to-date, safe and in compliance, therefore keeping expenses down and the paycheck level steady is a necessity for the owner and their family. When comparing costs and different ways to comply, drivers can choose between a new truck, retrofitting or leaving their business or California in the worst case.
The most cost-effective path for Owner Operators facing increased expenses and no change in income, is to retrofit their engine with a diesel particulate device, which averages about $15,000 and can be financed for a period of 2-3 years. One can estimate the monthly payment to be under $500 a month, which translates to just a few pennies a mile, considering that's only $15 a day until the loan is paid off.
A leading diesel retrofitter, Ironman Parts & Services, is helping independent owner operators take action and to start the process now, before it's too late and expenses or fines pile up. Ironman offers free workshops across the state to simplify the confusion and deliver easy-to-understand information on what steps to take, how to apply for financing and what requirements drivers will face.
DPFs have been proven extraordinarily effective and durable and have been operating on on-highway vehicles for over a decade now here in California. Ironman alone has installed over 13,000 retrofits in the state of California and a general accepted statement is that retrofitting with a DPF has essentially no impact on fuel economy. End-users should make sure that they only purchase filters that are verified by the California Air Resources Board since these have passed a stringent verification process and field test before being authorized as suitable for installation.
Truck owners are encouraged to visit the Ironman website for more details and assistance (http://www.ironmanparts.com/truck). Due to the time-sensitive nature of the approaching deadlines, truck owners should start to take action immediately.
About Ironman
Ironman Parts & Services, located in Corona, California, is the leading diesel retrofit installer in California. The company provides its customers with comprehensive supportive services which include diesel particulate filter installation, compliance consulting, long-term maintenance programs, CARB reporting, fleet audits, data management, finance application assistance and more. For more information, visit http://www.ironmanparts.com.
For questions, please contact:
Anna Ballou
Ironman, Marketing Manager
951-520-2977
aballou(at)ironmanparts(dot)com