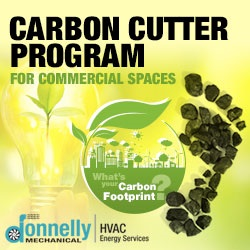 The 'Carbon Cutter' Program allows businesses to demonstrate quantifiable energy efficiencies and significant cost savings from improved HVAC system performance.
New York, NY (PRWEB) April 26, 2016
Donnelly Mechanical, New York City's only integrated HVAC and energy service experts, is pleased to announce the launch of its 'Carbon Cutter Program' for commercial building tenants. Donnelly Mechanical's team of LEED certified energy specialists developed the comprehensive HVAC energy program specifically to assist business owners and their facilities managers with achieving their energy consumption reduction objectives.
"We are conscientious of the collective need to reduce energy use and cut emissions," said Daniel T. Donnelly, CEO of Donnelly Mechanical. "Reducing energy waste is globally recognized as the logical and easiest way to cut emissions, protect the environment, and save money. Given that energy is a property's single largest operating expense, with energy representing about 30% of the typical office building's costs, New York City businesses are facing the need to improve energy efficiency. We developed the 'Carbon Cutter' Program to help them achieve cost savings and cut energy use. At the same time, they demonstrate corporate responsibility and cooperation with the city's carbon reduction efforts."
New York City initiated the 'New York City Carbon Challenge' program with an ambitious goal to reduce citywide greenhouse gas emissions by 2050 to 80% below 2005 gas emission levels. The 10 year roadmap to improve the energy efficiency of buildings aims "to reduce the city's building-based emissions by 30 percent by 2025 in order to be on the pathway to 80 x 50." To meet these objectives, New York City is calling upon building owners and managers to do their part to cut their energy use and emissions.
"The 'Carbon Cutter' Program allows businesses to get on board with carbon reduction objectives," said Donnelly. "It also allows them to demonstrate quantifiable energy efficiencies and significant cost savings from improved HVAC system performance. Participation in our program automatically aligns businesses with collective carbon cutting objectives for buildings. Everybody wins."
Information about the Donnelly Mechanical 'Carbon Cutter' Program is available at http://www.donnellymech.com/carbon-cutter-program/, or by calling (718) 925-3348.
About Donnelly Mechanical Corporation
Donnelly Mechanical Corporation is New York City's premier HVAC contractor, exclusively serving commercial clients. Founded in 1989, the firm is a leading integrated HVAC and energy company in the metropolitan area, offering clients a full range services aiming to maximize energy efficiency and cost savings. Equipped with extensive knowledge regarding the industry's leading sustainability technology and incentive programs, Donnelly Mechanical provides energy consulting, energy auditing and equipment replacement services. The firm's expert team includes senior-level staff with LEED-accreditation from the U.S. Green Building Council. For more information please visit http://www.donnellymech.com or call (718) 886-1500.
About Dan Donnelly
Daniel T. Donnelly (https://www.linkedin.com/in/dantdonnelly) founded Donnelly Mechanical in 1989 and Donnelly Sustainable Energy Services (SES) in 2009. As Chief Executive Officer, Mr. Donnelly leads the strategic vision of the company. Mr. Donnelly has over 38 years of industry experience and holds significant expertise in all facets of the HVAC and energy business, including estimating, budgeting, engineering, design build, turn-key construction, trade management, LEED BIM projects, energy consulting, and HVAC energy technical surveys/audits. His career is decorated by numerous major projects, including Carnegie Hall, New York Stock Exchange, Forbes, NFL, Major League Baseball, Bank of America, JP Morgan, Colgate, Morgan Stanley, Yahoo, New York Public Libraries and Disney/ABC. Mr. Donnelly has a degree from City College of New York and holds licenses and certifications in the following areas: Refrigeration Engineer License NYC #5795; LEED AP O&M; Certified Demand Site Professional #1301; Certified Energy Manager #14988; Certified Indoor Environmental Consultant # 1209007; Air System Cleaning Specialist #6990870; and US Army Cold War Certificate.