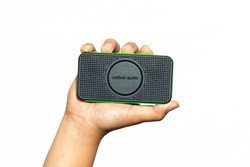 Your phone fits in your pocket, so why not your speaker?
Portland, Oregon (PRWEB) November 11, 2013
Carbon Audio, the Portland startup that launched in 2011 by taking the the award-winning Zooka tablet speaker from Kickstarter to Apple shelves in 7 months, is now at it again. This time they have completely redefined the idea of portable audio with their second product, Pocket Speaker.
Retailing for $99.95, Pocket Speaker comes in six initial face/side color combos: black/black, black/green, black/blue, black/white, white/yellow and white/pink. It is now available at Apple online and will be on retail shelves nationwide by November 11.
The Pocket Speaker was designed to have enough sound to fill an entire room, and at less than an inch thick it's also small enough to fit in your pocket. What could be more portable than that?
Pocket Speaker's portability starts with its size. "We've seen the cell phone become people's primary music device. Your phone fits in your pocket, so why not your speaker?" explains Co-CEO and Acoustic Engineer Jason Riggs. "From that point on we really started to push the limits with maximizing sound power in such a small size. With Pocket Speaker, we've definitely made that happen."
"It's freakin' unbelievable how loud Pocket Speaker sounds," says Co-Founder and CCO Jason Martin. "When we say it's extra small and extra loud, we mean it. People's eyes just light up when they hear it."
Designed to work with any Bluetooth-enable devices such as iPhone, iPad, and Macbook, Pocket Speaker can make any song be heard loud and clear. The secret to Pocket Speaker's pocket power is its patented internal architecture. Packed within the thin frame (22mm/.866 inch) are four 33mm active drivers, two 50mm bass passive radiators, it has enough internal power to hit 5 watt RMS and 8 Watt peak power. That mean's it's loud. Really loud.
Pocket Speaker features include:

22mm thin frame means it actually fits in any pocket
Frequency response of 120 Hz-20,000 KHz
Bluetooth 3.0 wireless technology
True wireless dual-pairing capability allows two speakers to pair wirelessly with one music device for left/right surround sound
Double-sided sound architecture means there's never a quiet side of the speaker
Internal microphone allows for taking conference calls
Charges with patented micro-USB/3.5 mm cable hybrid for up to eight hours of play time
With so much sound in such a small size, Pocket Speaker will ensure that this holiday season won't just be about what gifts are in your stocking–it will be about what's in your pocket too.
About Carbon Audio
Since 2011, Carbon Audio has defined the portable audio market space. As the creators of the award-winning Zooka Tablet Speaker and the recently released Pocket Speaker, Carbon Audio products truly define what it means to live life #outloud. Please visit the company online at http://www.carbonaudioinc.com. Follow on Twitter (@carbonaudio), Instagram (@carbonaudio) and Facebook (facebook.com/carbonaudioinc).
Watch the Pocket Speaker video on Vimeo: http://vimeo.com/78364714
Watch the Pocket Speaker video on Youtube: http://www.youtube.com/watch?v=hqiaGztPWlw
# # #
Media Contacts:
Drew Downie
Carbon Audio
E-mail: ddownie(at)carbonaudioinc(dot)com
Phone (503)-954-1011
Paulette Kam / Dina Rosenberg
B|W|R Public Relations
Phone (310) 550-7776
E-mail: paulette(dot)kam(at)bwr-pr(dot)com / dina(dot)rosenberg(at)bwr-pr(dot)com