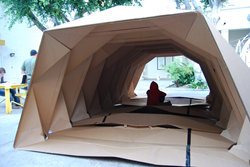 Remember always that you can make a difference. Don't be passive. Ignoring a problem adds to that problem.
Los Angeles, California (PRWEB) October 04, 2016
Cardborigami, Inc. announces its #Youthployment fundraising event that will be held at Pinky's Iron Doors in Los Angeles on 5 November 2016. All proceeds from the event will be used to expand the non-profit's job program for local homeless youth.
While many Southern California natives and visitors are taken in by the area's sunny skies, swaying palm trees and glamorous celebrities, the plight of the homeless is often ignored or forgotten. This is not the case with the founder and dedicated volunteers at Cardborigami, Inc. The company mass produces affordable, temporary shelters and provides jobs to homeless youth. Its mission is to give homeless individuals the tools that they need to lift themselves out of poverty through innovations in design. According to the Los Angeles Almanac, over 250,000 people in Los Angeles County experience homelessness every year. Many of them are young people who could escape Skid Row if given the right opportunities. Cardborigami provides some of those opportunities through its #Youthployment program, which allows homeless youth to earn money and gain valuable on-the-job training. Cardborigami hires #Youthployment participants to assemble its shelters for displaced individuals and families. These supervised, internship positions equip young people with basic job skills, a professional network of supportive individuals and confidence to succeed. A personal finance expert also works with the #Youthployment interns to help them make the most of their earnings and plan for the future. The interns take their newly acquired skills and verifiable references to permanent jobs in their local communities.
After experiencing success with its first batch of interns, Cardborigami seeks to expand its #Youthployment program to serve more of Los Angeles County's homeless youth population. The November 2016 fundraising event will help the non-profit to accomplish its goals. The organization's founder, Tina Hovsepian, is known for thinking big and attracting like-minded individuals and organizations to help her to accomplish Cardborigami's vision. When interviewed Tina stated, "Remember always that you can make a difference. Don't be passive. Ignoring a problem adds to that problem." The young social entrepreneur's enthusiasm and energy is contagious, and local businesses and individuals such as Pinky's Iron Doors, Toyota Motors USA, Open Architecture Collaborative, and a myriad of Los Angeles designers answered the call to help the members of their community who need them the most. Pinky's Iron Doors will host the #Youthployment fundraiser at its huge Los Angeles showroom where guests will meet some of the past #Youthployment graduates and witness the unveiling of a brand new Toyota Tundra donated by Toyota. Local architects and designers will also have the latest industry trends on display at the fundraiser. Attendees will have a chance to bid on auction items and win raffle prizes including a Cardborigami shelter. The social event will allow participants to enjoy live music, refreshments and art exhibits with their neighbors, community leaders and local business owners. Those who wish to purchase tickets for the event or make a donation should visit http://www.cardborigami.org/events or contact Tina and her staff at info(at)cardborigami(dot)org or (424) 256-8397.
About Cardborigami, Inc.
Cardborigami Inc., which was founded by Tina Hovsepian in 2010, produces temporary shelters for homeless families and individuals who are based in Los Angeles County. Ms. Hovsepian is a graduate of the University of Southern California's architecture school. She used her background in design to create the organization's signature portable shelters that can be used by victims of natural disasters as well as those who find themselves homeless because of other circumstances. The #Youthployment program is an important part of Cardborigami's strategy to defeat homelessness. To date, the organization has helped five homeless youths gain permanent employment, and it has constructed 150 temporary shelters in Los Angeles County. Tina's vision for the company extends to constructing permanent, sustainable housing for the county's homeless population. Through her accomplishments at Cardborigami, Tina won the Mother of Invention award in 2015 and the Muhammad Ali Humanitarian award in 2016.