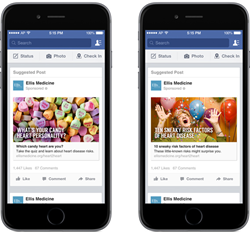 This awareness campaign generated a 794% increase in web traffic year over year
Troy, NY (PRWEB) July 09, 2015
Healthcare marketing agency Smith & Jones won Gold for Best Television in the 200-500 bed category and Silver in the Overall Best Television category at the 2015 Hospital Marketing National in Atlanta. The winning creative was part of a cardiac awareness campaign for Ellis Medicine.
The goal of this cardiac awareness campaign was to educate the community on cardiac risk factors and symptoms of heart disease. Much of the population is either misinformed or unaware of the prevalence of heart disease, and the agency turned this into an opportunity to drive patient volume to Ellis Medicine's cardiac services.
For the television spot, Smith & Jones decided to keep it lighthearted with a "man on the street" concept. In the spot, a 'host' asks ordinary people questions to test their knowledge on heart disease risk factors, which garners silly, misinformed responses. The spot concludes with "let's get serious about heart disease."
The campaign also included a long form web video, which was a longer version of the TV spot that lived on the campaign landing page and was promoted through social media channels, plus a heart disease quiz and top ten list of sneaky risk factors hosted on PlayBuzz. These digital components were supplemented with billboards, print and display ads that drove patients to the campaign landing page.
"This awareness campaign generated a 794% increase in web traffic year over year with a 100% increase in new visitors," said Mark Shipley, CEO and Strategy Director of Smith & Jones. "We attribute this success to a humorous, compassionate spot that everyone can relate to. It's easy to see yourself in the people interviewed and their responses."
About Smith & Jones
Smith & Jones is a healthcare marketing agency based in Troy, NY, that specializes in hospital systems and large physician practices. Learn more at http://www.smithandjones.com.