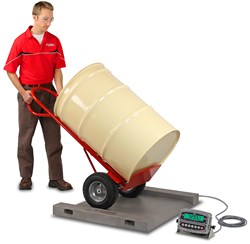 All of the Run-a-Weigh components are made in the USA at Cardinal Scale's factory in Webb City, MO: scale, stainless steel load cells, and digital weight indicator.
Webb City, MO (PRWEB) January 24, 2014
Weighing in at less than 100 pounds and featuring built-in handles, wheels, and ramps, Cardinal Scale's USA-made Run-a-Weigh is easy to lift and roll to wherever you need mobile weighing. Whether it's multiple weighing locations at a single facility or the need to take the scale to special job sites, the Run-a-Weigh gives you true portability for weighing barrels, drums, totes, and small crates.
The Run-a-Weigh portable floor scale has recently been upgraded to include a number of exciting new features in the washdown stainless steel RW-1000S model. This model's Cardinal 190 indicator is IP69K-rated polycarbonate for high-pressure, high-temperature washdowns and it features seven different LCD display colors and capacitive touch keys. An optional rechargeable lithium ion battery pack is available from Cardinal (model BP190) for truly mobile weighing. The RW-1000's 15-ft-long quick connect cable allows you to easily unplug the indicator from the scale during transport. The stainless steel USA-made load cells are completely protected in the base by heavy-duty structural steel channel fabrication and can withstand constant washdowns during clean-up.
The scale's self-aligning load cell feet and battery power options are valuable for weighing on varied industrial floor surfaces and remote locations. The scale, load cells, and digital weight indicator are all manufactured in the USA by Cardinal Scale at the company's factory in Webb City, MO.
Product Web Page:
http://www.cardinalscale.com/cs_product/run-a-weigh
Contact:
Cardinal Scale Mfg. Co.
203 East Daugherty St.
Webb City, MO 64870
(800) 441-4237
cardinal(at)cardet(dot)com
http://www.CardinalScale.com