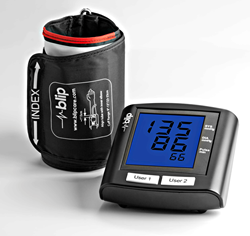 $1 per day for a complete solution is very affordable. Now we can scale up the program. Really like the user friendly design which then leads to high user compliance.
Chicago, IL (PRWEB) March 27, 2014
Carematix, a leading provider of end-to-end telehealth solutions, today announced CardioBlips, an affordable and complete solution for managing patients with Heart Failure (CHF) at home. The solution includes:

Worlds 1st WiFi Blood Pressure monitor with Daily Reminders
WiFi (Wireless) weight scale with a Guest Button and Daily Reminders
Cellular gateway including Cellular Data Plan to upload readings
Daily follow-up via IVR (automated phone calls) *
Web based clinical dashboard with alerts and notifications based on industry standard algorithms
Smart phone apps to engage patient family members in their care.
API's to push data to EMR (e.g Epic).
The solution is supported by Carematix's 12 years of proven clinical expertise and services to deliver a deeper, richer patient experience to provide the best patient care at home. The solution is FDA 510(k) Class II cleared, CE marked.
All this for $1 per day or $30 per month!**
The award winning Worlds 1st WiFi blood pressure monitor supports 2 modes and can be used to track left and right arm, or standing and sitting values. The WiFi weight scale, unlike Bluetooth scales, can be put in the bathroom and even reminds users with audible beeps to keep them on track. It is also the first scale to measure the users Balance Score along with weight and BMI. The included Cellular Data Plan is supported by Verizon, which has the largest cellular coverage in the country.
"We have taken our years of learning serving Medicare, Medicaid and Commercial populations to develop an innovative solution with new functionality at the lowest cost in the market. All elements of cost including setup, training, shipping, maintenance, support and cost of devices have been carefully addressed to achieve the lowest TCO (total cost of ownership)" said Dr. S. Khanuja, CEO of Carematix. "The solution is designed to fit into users lifestyle i.e weight scale in the bathroom and guest button to yield very high user compliance. The advanced analytics helps monitor the biometric and behavioral data to prevent readmissions and reduce cost of care."
About Carematix Inc
Based in Chicago, USA, Carematix is a leading provider of telehealth solutions to provide customized, scalable, cost-effective programs serving chronic care programs and clinical trials. Carematix offers a wide range of wireless monitors, including weight scales, pulse oximeters, glucometer connectivity, peak flow meters and blood pressure units. With experience in over 15 countries Carematix can serve any patient any where in the world. Carematix customers include Advocate Healthcare, Northwestern Hospital System, UPenn, VA, University of British Columbia, Novartis and Abbott.