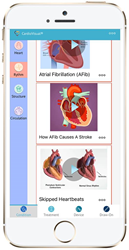 CardioVisual empowers doctors and patients to have more engaged, high-level conversations with less anxiety, aided by the app's simple and precise animation videos and, interactive visual illustrations, all from the convenience of a smartphone or tablet
Austin, TX (PRWEB) August 03, 2016
Texas-based cardiologist has launched a first-of-its-kind multimedia resource, CardioVisual, that makes it easier to explain and comprehend heart conditions and medical procedures. CardioVisual is a free, downloadable app available for iOS and Android devices, and has become a game-changer in the heart patient education realm. Rated 5-star by MDLinx and regularly reviewed by expert cardiologists to provide accurate and updated information about heart treatments, this unique learning tool is being embraced by leading cardiology practices, hospitals, physicians and heart patients.
Around the world, heart disease is the leading killer for young and old alike. It is a complicated concept to discuss for doctors and patients. Most physicians lack the instant material to explain quickly and guide patients at the time of their visit with easy-to-understand information about life-threatening heart conditions and their treatments. Meanwhile, patients and caretakers require clear communication from a trusted authority to understand their medical conditions, visualize the corrective procedures, achieve optimal compliance, and make informed decisions (the absence of which can add to their anxiety.)
CardioVisual fills this critical information gap by giving providers and their patients' everything one needs to know about heart health from the convenience of a handheld device. The power of genuine information and an effortless process, is how this simple app is producing a global impact - with thousands of patient downloads, a partnership with 20+ medical companies and organizations to provide valuable and reliable heart information.
"CardioVisual empowers medical professionals and patients to have more engaged, high-level conversations, aided by videos and interactive visual displays, all from the convenience of a smartphone or tablet," said Dr. Manish Chauhan, creator of the app. "'Short, curated video-based content provides consistent, repeatable and trustworthy information to enhance patient understanding and satisfaction while saving time and advancing the quality of care," he added.
CardioVisual is accessible to both patients and healthcare professionals for free. The app's 100+ professionally produced, patient-friendly videos and interactive illustrations of corrective treatments and devices allow providers to explicitly describe each patient's heart ailment. Providers can then share edited images with their patients. They can 'prescribe' the app to patients to download and learn about medical treatments at their pace. The app uniquely supports better education for patients from their trusted providers and bypasses the need for spending hours on the Internet searching for reliable and relevant information.
Austin, TX heart patient Dan Santema shares how using the app, changed his outlook and helped him make an informed medical decision: "My cardiologist repeatedly noted my sleep apnea symptoms. However I was skeptical, mostly because I did not understand what it was all about," said Dan. "After the doctor played videos demonstrating sleep apnea and its treatment, explained in simple terms, my wife and I saw our fear and hesitation disappear, and were able to accept the diagnosis. A few weeks later, I underwent a sleep study and was confirmed to have sleep apnea. Now, I wear a CPAP at night. Understanding the problem helped me accept its treatment and, possibly, is saving my life while also controlling my blood pressure."
"In a world where people assume technology and access to instant, reliable information, CardioVisual has taken patient education and satisfaction to another level," said Jayne King, Director of Heart and Vascular Care at St. David's North Austin Medical Center. "My patients report less scared and more knowledgeable after watching the app's videos."
For more information, visit http://www.CardioVisual.com, follow the page on Facebook and download the app on iOS and Android.