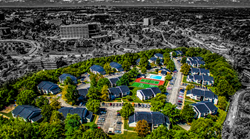 Cardone's investment strategy has always been forward-looking, and this portfolio exemplifies that.
MIAMI (PRWEB) September 21, 2018
Grant Cardone, CEO of Cardone Capital, announced the sale of their Nashville portfolio to Morgan Properties. The 826-unit deal consisted of four community complexes at Lincoya Bay, Hickory Creek, Jackson Grove and Sheffield Heights – all in the east/northeast area of central Nashville. Cardone Capital has spent over 25 years focusing on investing in income-producing, affordable housing in the secondary and tertiary markets and is changing the way people invest in multifamily real estate by offering real asset ownership, no broker fees, monthly distribution of funds as well as accredited and non-accredited fund offerings.
In addition, Cardone Capital has crowdfunded over $100 million in the last fourteen months through social media and currently operates 5,000 units throughout the Southeast United States.
Dan Phelan, Director of Multifamily Sales at ARA, A Newmark company, represented Cardone Capital in the sale. He commented, "Grant Cardone recognized the potential in these assets early on and was able to reap the benefits of rising demand for work-force housing in Nashville in order to bring the properties full cycle."
"Cardone Capital perfectly captured opportune timing in the disposition of the portfolio," says Phelan. "The growth story of Nashville was immediately recognized by a very competitive field of buyers, resulting in top-market pricing for the assets and a great return for our client.  Cardone's investment strategy has always been forward-looking, and this portfolio exemplifies that."
Cardone says, "Jonathan Morgan and his group were a pleasure to deal with.  They fully understand the value of affordable housing in all markets, especially the super-hot Nashville market.  Long term I will probably regret selling this portfolio as it has become almost impossible to find affordable housing. This was purely a business decision for our investors."
For more information on Cardone Capital and investment opportunities, call 310.777.0255 or go to http://www.cardonecapital.com
About Grant Cardone: Grant Cardone is a New York Times bestselling author, international social media influencer, the number one sales trainer in the world, and an internationally renowned speaker on leadership, real estate, investing, entrepreneurship, social media, and finance. He owns five companies with annual revenues exceeding $100 million.  He is a regular guest on Fox News, Fox Business, CNBC, and MSNBC. He also is a contributing writer for Forbes, Success Magazine, Business Insider, Entrepreneur.com and the Huffington Post.
We are accepting Indications of Interest Only. At this time, no money is being solicited and any funds tendered will be rejected. Your indication of interest is non-binding.