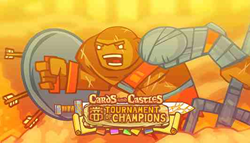 Find out who is truly the best in the new Arena map. Use new game mechanics to defeat your opponents. Test your might in the upcoming campaigns
Los Angeles, CA (PRWEB) March 20, 2015
The founders of Bit Mass LLC, an app developer that creates exciting iOS games, Android games and more, are pleased to announce the new release of Cards and Castles: Tournament of Champions. As an article on the Cards and Castles website notes, the expansion is scheduled to arrive in March and will come with many exciting new features.
"Prepare to amass your armies for the coming of Tournament of Champions," said the announcement for the new release of Cards and Castles.
"Find out who is truly the best in the new Arena map. Use new game mechanics to defeat your opponents. Test your might in the upcoming campaigns."
According to a trailer on YouTube, the upcoming expansion will include 50 new cards, including special set icons that will display on the cards. There will also be a new "Discard" mechanic as an alternative casting cost, as well as a new "Upkeep" mechanic that will allow players to summon powerful units early, as long as they keep paying for them. Other features include the "Purge" mechanic to counter enchantments, and new content for single players.
As a spokesperson for the indie games company noted, Cards and Castles received the official Greenlight from Steam to go on PCs and Macs. To date, the free collectible card game has been downloaded over half a million times; the combination digital CCG and grid-based strategy game involves building a deck of cards and then meeting opponents on a battlefield grid and fighting to destroy their castle. During the game, players can collect additional cards, which will allow them to create more strategies and ultimately defeat their opponents.
Anybody who would like to learn more about Cards and Castles: Tournament of Champions is welcome to visit the website; there, they can read through a complete list of available cards and, if they wish, download the game through Google Play or the App Store.
About Bit Mass, LLC and Cards and Castles: Tournament of Champions:
Bit Mass, LLC, a California based app developer, has launched its newest Expansion to Cards and Castles: Tournament of Champions. This is the company's largest expansion to date and features new mechanics to the game and improved UI overall, single player content, and 50 brand new cards. Cards and Castles now boasts over half a million downloads and has been officially Greenlit on Steam to go on to PC and Mac. For more information, please visit http://www.cardsandcastles.com/