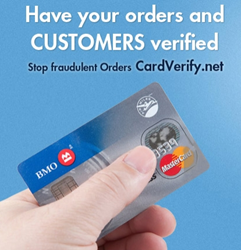 CardVerify Eliminates Virtually All Fraudulent Credit Card Orders!
Kelowna BC (PRWEB) July 03, 2015
CardVerify.net Merchant Account Services is recognized as a unique merchant account service. Accepting credit card payments online has never been easier and can be setup for no cost. CardVerify.net processes orders and credit card payment details via 256 Bit Secure web form and instructs the purchaser to upload an image copy of a credit card to prove physical possession of that credit card used in the transaction. The CardVerify.net verification process has proven to thwart virtually all fraudulent internet based orders submitted by thieves and hackers as most online thieves are not in actual possession of the credit card itself just the card numbers and personal information. This simple method of verification has saved internet companies thousands of dollars on fraudulent orders, and expensive chargeback fees. CardVerify.net will not only show the order details with an uploaded image copy of the credit card for verification, the system also provided the merchant IP and location details including a map and any complaints on that IP further increasing security.
What is CardVerify? CardVerify is an online credit card form generator that creates free custom SSL secure credit card purchase forms and secure website contact forms for use in a website or even via email. After creating a CardVerify account members can quickly begin accepting credit card payments, then start setting up a credit card merchant account. CardVerify is proud to announce the system integrates seamlessly with PayPal and Authorize.net accounts respectfully.
Accept credit card payments for your online business is easy with CardVerify.net. Register for your Merchant Account and Payment Gateway and have the extra added Security of CardVerify.net security verification to stop fraudulent orders all in one.
What is a Merchant Account? A Merchant account is a bank authorized account which allows you to accept major credit cards, and sometimes electronic checks. A Payment Gateway is the secure web based software which actually processes customer order information, address, and credit card number. The data is sent to a credit card authorization network which verifies that the credit card is valid and verifies that the shipping address matches the billing address to transact the order. Setup a CardVerify Merchant Account and fight online fraud and chargeback's due to fraud Register Free http://www.cardverify.net