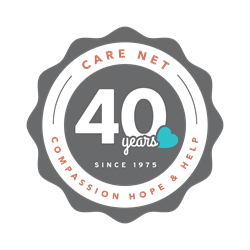 God put on my heart immediately a burden for the unborn.
Lansdowne, VA (PRWEB) October 08, 2015
Care Net, in partnership with Regent University, has awarded a four-year scholarship to Paula Garner, a pregnancy center client nominated by A Hand of Hope Pregnancy Resource Center, a Care Net affiliate in Fuquay Varina, NC, where she received support services.
Regent University, a leading university offering education rooted in a Christian-perspective, has partnered with Care Net, a nonprofit organization that supports one of the nation's largest network of pregnancy centers, for the last five years to offer scholarships to clients who have been served by one of Care Net's 1,130 affiliated centers.
This year's winner, Paula Garner, became pregnant in high school and A Hand of Hope gave her the emotional, material, and spiritual support she needed to get her through a very challenging time in her life. Her daughter is now two years old and she is married to the child's father. This experience led Paula to feel called to help other young women in the same way she was helped by the pregnancy center. This calling became crystal clear when she miscarried her second child. Paula said of this experience, "God had a much greater plan than the one that I thought I was starting to unfold. God put on my heart immediately a burden for the unborn."
With this passion to protect the unborn and help women and men facing pregnancy decisions, Paula will pursue a bachelor's degree in psychology at Regent, with plans to pursue a master's degree in counseling so that she can become a counselor at her local pregnancy center.
"It is our joy and honor to come along side Care Net and provide a scholarship for young and courageous leaders like Paula Garner," said Ann LeBlanc, Regent's vice president for advancement. "We know that she will be successful and have a great impact for the Kingdom of God."
Tonya Baker Nelson, the executive director at A Hand of Hope who nominated Paula for the scholarship, is confident that Paula will find success in her life and her career. She said, "Resiliency. Spiritual maturity. Passionate. These are the three things that immediately come to mind when Paula's name is mentioned...Paula wants to lead her generation to defend life. A Biblical worldview and an educational background in psychology will give her a firm foundation on which to build her passion."
Garner's emotional reaction to learning she was this year's winner was captured in a video, recorded at A Hand of Hope.
Garner was presented with the scholarship award at the Care Net National Conference in San Diego on September 11. Melissa Nannarone, Director of Corporate Partnerships at Regent University, and Cynthia Hopkins, Care Net's Vice President of Center Services and Client Care, presented the award.
Care Net and Regent University will present the scholarship award again next year at Care Net's National Conference taking place in Orlando, FL from September 6-9. The application process will open by June 2016.
In a competitive process, clients are nominated by their local pregnancy center, submitting applications that are reviewed by a scholarship committee. The successful applicant demonstrates strong leadership potential, determination, academic aptitude, and the ability to thrive in Regent's rigorous program.
Founded in 1975, Care Net supports one of the largest networks of pregnancy centers in North America and runs the nation's only real-time call center providing pregnancy decision coaching. Acknowledging that every human life begins at conception and is worthy of protection, Care Net offers compassion, hope, and help to anyone considering abortion by presenting them with realistic alternatives and Christ-centered support through its life-affirming network of pregnancy centers, organizations, and individuals. Learn more at http://www.care-net.org.