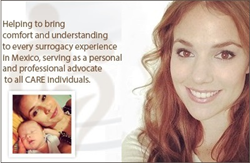 You need to approach surrogacy with an open mind and an open heart. This isn't just a business for CARE. They are creating families and making memories...
Los Angeles, CA (PRWEB) April 29, 2014
The leading surrogacy provider in Mexico, CARE Surrogacy Center, has selected its new brand ambassador to serve as a personal and professional advocate to all future CARE intended parents, and empower them on a rewarding journey towards parenthood. The company announced this week that, Carmela Piroli, will be the Brand Ambassador — and will serve as the flagship of the newly added CARE platform, Carmela CARES.
CARE Brand Ambassadors are industry professionals selected for their commitment to the vision of surrogacy in Mexico and to raising the bar via activism. The chosen ambassador offers thought leadership in the industry, a sense of outreach throughout communities, and a willingness to collaborate with other intended parents based on their own CARE experiences.
After navigating through the complex journey of surrogacy herself, Carmela has incredible firsthand experience of every aspect of the CARE program in Mexico. Now a devoted mom to baby boy Luca, the brand ambassador is available to interact with to-be parents, provide guidance, education and support based on her own experience in Mexico, assisting with travel concerns, and answering those delicate and difficult questions.
"You need to approach surrogacy with an open mind and an open heart. This isn't just a business for CARE. They are creating families and making memories. The second my son Luca was born my life changed for the better. My purpose made sense. I had clarity. I have had 4 miscarriages and was told it was too dangerous for me to get pregnant again, but I refused to give up. My heart ached for a baby of my own. I want to educate people about surrogacy in Mexico. For me this is not just my career. It's a dream. A dream to reach as many people as I can whose heart ached like mine for a baby." stated Carmela.
Interacting with Communities Across the Globe —
"We are proud to welcome Carmela to our CARE family. We have watched her life transform from the very first step. It's a whirlwind of emotions to see the love and bond between Carmela and her new baby, Luca," stated Tolga Umar, CEO and Founder of CARE Surrogacy Center. "Having Carmela as a previous intended parent to represent the global CARE brand is a great honor and provides us with the highlight it certainly deserves."
CARE is committed to promoting the brand even further. The launch of the new Carmela CARES platform give the company an improved stage to interact with communities across the globe. The platform is daily affirmation that CARE proudly supports all individuals who are chasing their dreams of parenthood.
With a shared interest in reaching as many intended parents as possible, Brand Ambassador Carmela and the CARE Surrogacy Center believe that there are no limits when it comes to communities of real need. "The entire process has been very exciting for me. I find it fascinating what modern medicine can do for individuals who have been told no — you cannot get pregnant or this isn't in the cards for you. I am constantly learning about new approaches with IVF and surrogacy law. It has become my passion to help as many people as I can who have the dream of starting a family," stated Carmela.
Connecting with Future Parents —
After a meticulous selection process, the decision to implement a brand voice aligns with the company's efforts to continue to position themselves as advocates of surrogacy for all individuals — single, heterosexuals, and gay couples.
Through various threads of communication, CARE Surrogacy Center Mexico is looking to connect emotionally with future parents, and to have a long-term impact on the surrogacy industry, and inspire those looking to build a family with Carmela's unique story.
Carmela Piroli will be supporting the CARE brand in several significant ways — the face of various media announcements, on the website, Carmela CARES Facebook page and inspirational blog featuring — baby Luca. She will also be supporting surrogacy in Mexico by creating and sharing twitter posts, photos and YouTube videos of her new chapter of motherhood.
About CARE Surrogacy Center Mexico
The CARE Surrogacy Center in Mexico provides incomparable experiences for intended parents, encompassed by enhanced clinical pregnancy outcomes, abridged costs and a wide-ranging continuum of care. The vision of CARE is to represent and assist individuals and couples all over the world who want to build a family, regardless of sexual orientation or marital status. The Center embraces a positive approach to surrogacy with compassionate journey coordinators, expert IVF medical specialists using the latest technologies, and the expertise of the CARE surrogacy legal team.
About Carmela CARES
Carmela CARES is an all-inclusive part of the CARE platform — connecting you with Carmela Piroli, who has been through the program at CARE and has incredible firsthand experience of every aspect that you will partake in as an Intended Parent at CARE Surrogacy Center Mexico. Newly devoted mom to Luca Carmela is passionately providing the right blend of CARE expertise, and is poised to help you with every need you may encounter on your journey to parenthood. Find More Inspiration — Join CarmelaCares on FaceBook, Twitter @CarmelaCARES, trending blogspot CarmelaCares, on Google+ and YouTube.