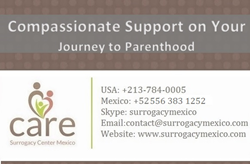 Even if intended parents decide not to work with CARE, we wholeheartedly want intended parents to make the right choice for their future. Infertility desperately needs the kind of attention and awareness effort as cancer or heart disease.
Chicago, IL (PRWEB) July 23, 2014
Immersed in excruciating pain, approximately one in eight American couples experience infertility. As a prominent leader in the fertility industry, CARE Surrogacy Center is devoted to helping couples struggling with infertility overcome the feelings of despair and loss that you simply can't quantify.
The caring and compassionate team at the leading surrogacy center in Mexico understands infertility can introduce fear — fear that life will be eternally empty. They understand that infertility can elude to a sense of destruction and brokenness; and infiltrate into the overwhelming majority of everyday life — and ultimately affect those around them.
A survey by GfK Roper states that 71 percent of women feel flawed by infertility, while 50 percent of men say it intrudes a feeling of inadequateness. The struggle of infertility can lead to isolation, with nearly 61 percent of couples stating that they try to hide their fertility difficulties from family and friends.
"It's nearly impossible to entirely convey what couples struggling with infertility are going through, unless you have gone through it. The desire to start a family is an overwhelming sensation, and failing to achieve that can impact everything from marital relationships to career choices," states Ivan Davydov, Reproductive Lawyer at the CARE Surrogacy Center. "Our goal is to provide these loving couples with the resources they need to understand their fertility risk factors, and incorporate treatment options and our pregnancy guarantee program to overcome these detouring obstacles."
Breaking the Silence —
How can a health issue that pains so many couples worldwide be shrouded in silence? Month after month, infertility couples are faced with life-altering decisions and distress.
Submerged in the heartache of infertility, the CARE Surrogacy Center in Mexico is helping couples break the silence and grasp the different options for parenthood. With an array of invaluable IVF program options, the center is driven by the joy millions of couples seeking parenthood gain through surrogacy in Mexico.
"We educate intended parents on the different paths to parenthood, including IVF, egg donation and surrogacy to achieve fertility," states Tolga Umar, CEO and Founder of CARE. "Even if intended parents decide not to work with CARE, we wholeheartedly want intended parents to make the right choice for their future. Infertility desperately needs the kind of attention and awareness effort as cancer or heart disease."
Dynamic Growth Strategy —
Infertility is defined as the inability to conceive after one year of suitably timed, unprotected intercourse in women under 35 years of age, and after six months of unprotected intercourse for women 35 and older.
The CARE Surrogacy Center provides the following insight for couples struggling with infertility:

Ask questions and become aware of your medical options
Seek out psychological support to help eradicate distress
Explore blogs and support groups for empathy, support, and friendship
Refrain from isolation and disconnecting from your spouse, family and friends
Resist the temptation that infertility is a punishment or fate — or that pregnancy is not achievable
Become an advocate — infertility should be recognized as a serious health issue
Fight to avoid the pressure infertility can lead to in your marriage; as your relationship may begin to weaken or become fragile if you lose sight of your loved ones
Decide with your spouse how much you're willing to pay for infertility treatment; sit down and develop a financial plan.
Balance optimism and realism — staying realistic can help you make better choices as you work your way through the emotional obstacles of infertility.
Take care of yourself and each other — emotionally and physically.
Today, the leading surrogacy center in Mexico is helping educate couples from the USA, Mexico, Australia, France, Spain, Canada, the UK and more — and providing valuable devotion on their journey to parenthood. Embraced by honest, uncompromising services, the center delivers the ultimate family building experience, for intended parents and surrogates alike.
About CARE Surrogacy Center Mexico
The CARE Surrogacy Center in Mexico provides incomparable experiences for intended parents, encompassed by enhanced clinical pregnancy outcomes, abridged costs and a wide-ranging continuum of care. The vision of CARE is to represent and assist individuals and couples all over the world who want to build a family, regardless of sexual orientation or marital status. The Center embraces a positive approach to surrogacy with compassionate journey coordinators, expert IVF medical specialists using the latest technologies, and the expertise of the CARE surrogacy legal team.